McAfee bugs out: AntiVirus guru hits rock bottom after fleeing murder charge
Published time: 13 Nov, 2012 10:48
Edited time: 14 Nov, 2012 09:46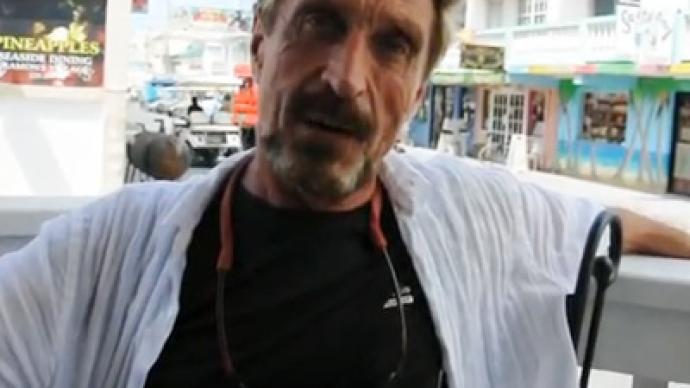 John McAfee's world of zombifying drugs, Belizean gangsters, illegal firearms and run-ins with authorities thickens as he continues to evade police after being named the prime suspect in the murder of his neighbor.
McAfee, 67, has apparently successfully managed to dodge Belizean police for a second day after he was implicated in the murder of his neighbor, 52-year old Gregory Faull.
The antivirus pioneer's covert movements are being tracked – and tweeted – by Wired.com reporter Joshua Davis, whom he contacted soon after going into hiding via telephone.
The last tweet read: "McAfee on phone just now: I have radically altered my appearance."
As soon as McAfee heard about the murder he went into hiding, allegedly fearing for his own life. He believes he could be killed if taken into custody for questioning, according to Wired magazine.
His current whereabouts are unknown, but he has been in contact with a reporter at Wired on several occasions via telephone. The millionaire entrepreneur believes that whoever shot Faull may in fact be gunning for him.
"I thought maybe they were coming for me. They mistook him for me. They got the wrong house," he told Wired. "He's dead. They killed him. It spooked me out."
But initial evidence doesn't bode well for the antivirus guru-cum-yoga master. According to reports, a 9mm Luger shell was found at the scene of the crime. McAfee was seen with two Luger pistols during his interview with Wired magazine back in summer 2012. He insists they were confiscated during a police raid in April while he was living with his 17-year-old Belizean girlfriend.
IT weblog Gizmodo reported, "McAfee has become increasingly estranged from his fellow expatriates in recent years. His behavior has become increasingly erratic, and by his own admission he had begun associating with some of the most notorious gangsters in Belize."
After selling his final stake in McAfee at the end of the 90s, he lost most of his $100 million fortune in bad investments and the global financial crisis in 2008. McAfee then moved to Belize. The New York Times wrote back then that, "He planned to spend much of his time in Belize, in part because of more favorable taxes there."
He also revealed on online message boards his fascination with MDPV, a psychoactive drug with stimulant properties and most commonly attributed to recent 'zombie-like' attacks.
McAfee was also not on the best of terms with his neighbor. Faull had been complaining that McAfee was "difficult" and "hard to befriend", says ABC News. He had also complained about McAfee's dogs and had reportedly filed a complaint about them with local authorities. According to McAfee, the dogs were poisoned on Friday.
But McAfee blames the Belizean authorities for the deaths of his dogs. The antivirus pioneer has been tangling with them for months after he was initially accused of manufacturing methamphetamine and illegal firearm possession in the April raid, he told Wired. These charges were dropped, but McAfee still believes the government is out to get him.
According to Wired, the head of Belize's Gang Suppression Unit, Marco Vidal, says that McAfee is a "prime suspect" in Faull's death and rejects McAfee's assertions.
"This guy amazes me every day. We don't have anything personal against Mr. McAfee. There is no need for us to poison dogs," he said.
The Belizean police have already searched McAfee's property and could nearly have nabbed McAfee himself. According to Wired, he had "buried himself in the sand and covered his head with a cardboard box in order to breathe."
But despite being currently on the run, McAfee insists he has no plans to leave the country.
"I like it here,"
he says.
"It's the nicest place on Earth."