McAfee's macabre media circus continues as antivirus inventor flees to Guatemala
Published time: 4 Dec, 2012 19:54
Edited time: 5 Dec, 2012 00:31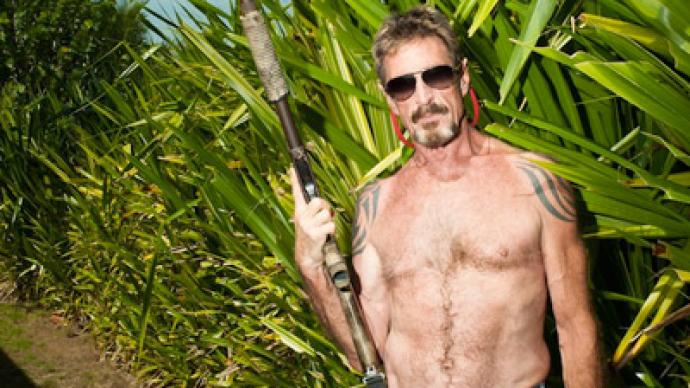 Fugitive software pioneer John McAfee says he has escaped Belize, where he is wanted for questioning over a murder, and is now in Guatemala. The flight required elaborate ruses, including allegedly using a double with a North Korean passport.
­Vice Magazine, which has two journalists traveling with the fugitive mogul, reports that McAfee handed over his passport to a local lawyer, and will now battle the Belize authorities through legal means.
"I apologize for all of the misdirections over the past few days. It was not easy to exit Belize and required many supporters in many countries," McAfee, 67, posted on his personal blog, which he has updated regularly, often with information later denied by himself and others.
The founder of McAfee, an anti-virus software company he retired from in 1994 (netting $100 million in the process), has lived in Belize, a tiny, English-speaking tropical country in Central America, for the past four years.
Three weeks ago, police found the body of McAfee's neighbor, another expat called Gregory Faull, with a fatal gunshot wound to the head. McAfee, who had been reported as walking around the local beach with a shotgun and maintaining a retinue of armed bodyguards, was named as a "person of interest" by the authorities.
He immediately accused the authorities of killing Faull, and insists the police will murder him next. He also alleges they may have made more than a dozen attempts to kidnap him over the course of the year, for his refusal to put up with extortion.
Gregory Faull (AFP Photo / San Pedro Sun)
Belizean Prime Minister Dean Barrow has urged McAfee to turn himself in, and says there is no threat of arrest.
"I don't want to be unkind to the gentleman, but I believe he is extremely paranoid, even bonkers," Barrow said days after the murder.
McAfee is traveling with Sam Vanegas, a local 20-year-old female "companion" who he says has been his "eyes and ears," and two senior editors from edgy Brooklyn magazine Vice, who are shooting a documentary about him.
He has revealed this information through a blog, a press officer, and a series of daily interviews with American media.
In recent days McAfee has claimed to have adopted various disguises, such as a German tourist and a hobo. He has dyed his hair, which he says made him look "like a murderer." On Monday, McAfee wrote that he attempted to create a diversion by using a body double with a North Korean passport, who was to be arrested in neighboring Mexico after causing a disturbance. The ruse supposedly failed when the man was released without charge.
Other than the obviously changed hair color in recent photos, not all of the information has appeared plausible.
The same Monday, McAfee alleged that he already left Belize, but a set of co-ordinates revealed when his companions uploaded a picture of themselves with McAfee, showed the group as still being in Belize.
McAfee's self-confessed "deteriorating" mental and physical state has possibly been further aggravated by a predilection for MDPV, more commonly known as bath salts.
A "huge fan" of the stimulant, according to online posts, McAfee nonetheless complained that it gave him "visual and auditory hallucinations and the worst paranoia of my life."
In April police raided his house. They found ten legally-acquired firearms, and an amateur laboratory in which McAfee claimed he was going to synthesize the perfect MDPV. No drugs were found, and the entrepreneur was not charged.
Visiting his heavily-fortified compound in the aftermath, an American journalist described the software maker as "unhinged."
While both the media and McAfee himself have relished the publicity, Faull's family feel like they have been forgotten in the media furor.
"The real issues are that a human life was violently taken, authorities lack all the information … we're beyond the danger of them being lost, it's become entertainment. This is tragic to the family," Dan Keeney of Texas-based DPK Public Relations, who is acting on behalf of the Faulls, said in a statement.
"We strongly urge journalists covering the McAfee story not to glorify the words and actions of this person who, by refusing to cooperate and tell police all he knows about the murder of Greg Faull, is harming the investigation of the murder."