Lufthansa pulls plug on name change contest after Swedish deluge of volunteers
Published time: 2 Nov, 2013 13:53
Edited time: 2 Nov, 2013 15:54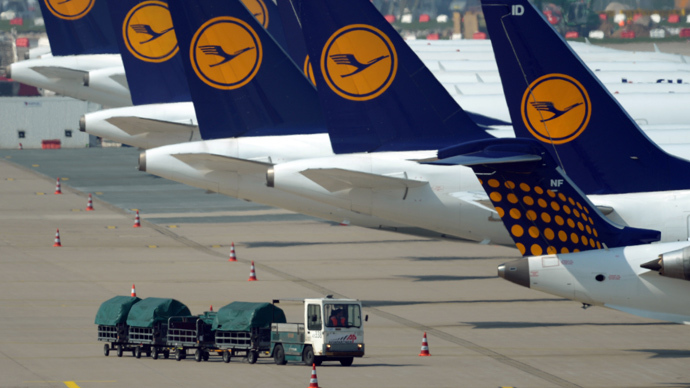 Popular airline carrier Lufthansa was forced to pull the plug on a wacky ad campaign after Swedes took it too seriously. The idea was to change one's name to Klaus-Heidi in return for a new life in Berlin.
Sweden is one of the countries where citizens change name most often, while Berlin is on the rise as a destination among Swedes, writes the Swedish edition of The Local. It appears there's tough competition for budget flights to Berlin, and Lufthansa decided to carry out an original promo campaign.
The initial plan proposed at least one person passionate enough to move to the German capital by changing their name to the gender-mixed Klaus-Heidi. This was to be done in the period from October 11 to November 28.
The number of Swedes who wanted to chase the Berlin dream stood at 38, before the airline decided the prank was a slight miscalculation. The staggering number of people falling for it led to the closure of the campaign a month early.
"The goal is to find a person who loves Berlin so much that he or she is ready to sacrifice their real name to become Klaus-Heidi," Magnus Engvall, senior marketing specialist at Lufthansa, told the Local just over two weeks ago. Engvall also explained that the competition would not be about monetary gain – but about a love of the city, and humor.
In a Friday statement to Sweden's Dagens newspaper Engvall said that "We never even imagined that so many people would actually change their names… The campaign has spread even beyond the nation's borders," as applications from Norway started to pour in as well.
However, Lufthansa does not wish to disappoint. It was apparently never about the name change, but about the justification one has for moving. Based on that, a jury will pick the lucky immigrant, who – apart from the weird name – will now have an apartment in Berlin, paid a year in advance, together with classes in German, a bicycle and an airplane ticket taking them there.
"It's a lovely apartment, fully furnished on the fourth floor, located right between two very trendy areas… It's very Berlin, very romantic. And it's pimped with some Lufthansa stuff – the pyjamas we give to first-class passengers, Lufthansa towels, cups, things like that," Engvall explained. 
The Local got to interview one of the contestants, a John Eje Thelin, now known as Klaus-Heidi John Eje Thelin, who professed his love for the city.
"I've been wanting to move to Berlin for quite a while. My wife and I have been planning it. The last time I left Berlin, I felt like I was leaving a lover. A lot of the people who have been blogging about it have said things like 'Oh, I'll give it a shot, and if it doesn't work I'll go to India. But for me it's just Berlin," said the 46-year-old.
The wife, Debbie, is very supportive of John's mission. Even losing the competition will not deter the couple from moving to the German capital. She explained why John really is deserving of the opportunity.
"He is Charlie from Willy Wonka," she said. "Everyone else is in this for a lark, because they think it'd be fun. But he wants this. This is truly his golden ticket. It's not just getting out of Sweden, this is 'I really do want to change my life. I want my new life in Berlin.' And I'm all over [for] it," she added.
Thelin was one of the early birds, having sent in his name change by the time it was afternoon in Sweden. When asked what if he doesn't win, Thelin simply said: "Ma name is Klaus-Heidi, and whatever happens, Berlin is still my town."
Lufthansa's Engvall himself admitted to being in the company's target group for the move, having said, "Personally, I would do it… I think it's a really fun thing, and a great start for anyone who wants to live there. And it gives you a great story, And you can always change back your name, though of course our wish is that they keep the name and are proud of it," he concluded.