Worm Armageddon: Kremlin grills governor over dinner tweet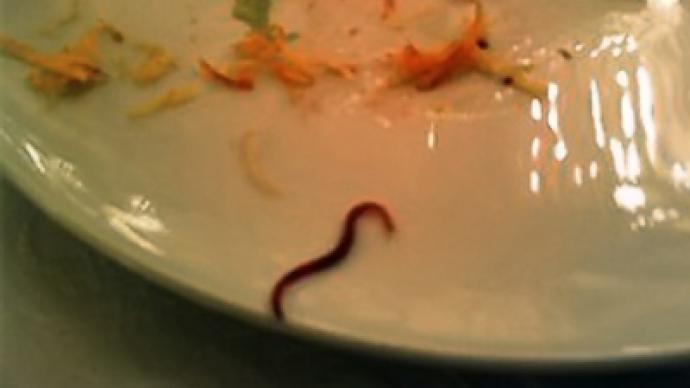 The Kremlin security service is seeking to disprove the online report about a live worm being served to a guest at a Kremlin reception. If the tweet is found to be fake, the poster may be in trouble.
On Wednesday, governor of the Tver region Dmitry Zelenin livened an official presidential dinner by posting a picture of his plate to his Twitter account. It showed a worm wiggling its way across the salad leaves.
"Things happen," said Zelenin in the post. "Even in the Alexander Hall, with your veal you get served salad with live worms."
Just a few hours later, the post and the photograph mysteriously disappeared from his Twitter, but the story quickly spread through the blogosphere and stirred the public and officials.
On Thursday, the Department of Presidential Affairs said the notorious photograph was likely to be a fake, and that it certainly wasn't taken at Wednesday's dinner in the Kremlin.
The Federal Guard Service is analyzing the picture now, the Department said, and if it is proved a fake, Zelenin will have to respond.
Meanwhile, presidential aide Sergey Prikhodko called Zelenin's post irresponsible and foolish. He told RIA Novosti that it is time to introduce "discharge for half-wittedness" as a new reason to firing governmental officials.
This is not the first time a tweet has landed a Russian governor in trouble. In August, President Dmitry Medvedev publicly told off the governor of Kirov region for updating his Twitter account during a State Council session.
You can share this story on social media: