Germany wants to charge US-based former SS commander 'Wolf' with murder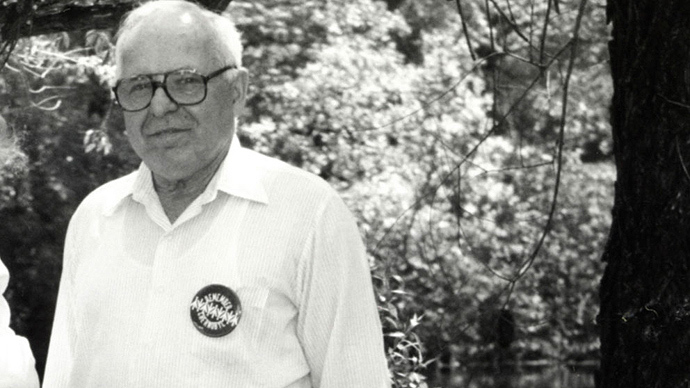 A German prosecutor responsible for hunting down war criminals says murder charges should be filed against 94-year-old Minneapolis resident, Michael Karkoc. Mounting evidence suggests the ethnic Ukrainian ordered a village to be burned in 1944.
"We have determined the requirements for murder charges are there," said a statement from federal prosecutor, Thomas Will. The official will now pass the dossier on Karkoc, who has lived in the US for over 60 years, to state prosecutors, who will decide whether to file charges and request extradition of the former Nazi collaborator.
The news has emerged on the same day as the AP news agency published yet another eyewitness report from a former Karkoc underling, who described his superior ordering SS-collaborator troops to kill over forty people in the village of Chlaniow, as retribution for the killing of a German SS commander.

Karkoc's family has repeatedly denied the charges.

Michael Karkoc was born in 1919 in Lutsk, currently in western Ukraine, but then a part of Poland. Following the Molotov-Ribbentrop Pact, which carved up Poland between the USSR and Germany, Lutsk was annexed by Soviet troops in 1939.

When Germany invaded the territory during its subsequent war with the Soviet Union, Karkoc, whose combat name was Wolf, first fought for the Germans and then he formed a company in the Ukrainian Self-Defense Legion (USDL).

The SS-directed collaboration unit was engaged in local policing and suppressing anti-Nazi resistance.

In the summer of 1944, resistance fighters killed USDL commander Siegfried Assmuss (who Karkoc described as "irreplaceable" in his memoirs). Ivan Sharko, a soldier who served under Karkoc, told Soviet investigators what happened next, in a 1968-dated file uncovered by AP in the archives of a Ukrainian prosecutor's office.

"The commander of our company, Wolf, gave the order to cordon off the village [Chlaniow] and check all the houses, and to find and punish the partisans," said Sharko.

"The legionaries surrounded the homes, set fire to them with matches, or with incendiary bullets, and they shot anyone who was found in the homes or anywhere in the streets. Most of the houses were burned as a result of this action. How many people were killed in all, I don't know. I personally saw three corpses of peaceful inhabitants who had been killed."

Between 40 and 80 people are estimated to have died in the massacre, many of them women and children. The testimony matches that of another private in Karkoc's unit, Vasyl Malazhenski, who told Soviet investigators in 1944 that Karkoc ordered his men to "liquidate all the residents" of Chlaniow.
The interview with Sharko, who died nearly 30 years ago, also links the unit with another "punitive action" in Sagryn the same year. Previous civilian accounts also claimed that Karkoc's company killed over 20 people in the settlement of Pidhaitsi the year before.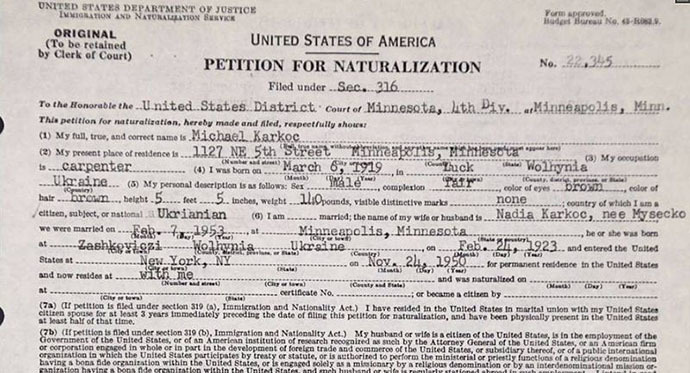 Following the war, Karkoc emigrated to the United States, and took up carpentry, spending the next fifty years living quietly in Minneapolis. On his residency application in 1949 he stated that he performed no military service at all.

Nonetheless, he did little to hide his past. In the mid-1990s he published a memoir, proudly detailing his fights against "Communists", though he did not describe the murders of any civilians. He has also visited Ukraine, where he was warmly received by nationalists, who see the USDL as part of a struggle against Soviet imperialism.
Since the accusations surfaced this summer, his family has refused to let the media speak to Karkoc.
When presented with the latest testimony from Sharko by AP, Karkoc's son, Andriy, challenged the reporters to produce more substantial evidence, and called the massacre account "a defamatory and slanderous allegation."
The United States does not customarily conduct trials of war criminals, though it has previously extradited them to countries such as Poland, Israel and Germany, which still vigorously prosecute World War II participants, no matter how old, as a matter of principle.
Lying on his initial application form could be legally sufficient to earn Karkoc deportation. Alleged Nazi concentration camp guard John Demjanjuk was extradited to Israel on this basis, but after decades of court proceedings in several countries, he died last year. As his appeal to a German court had still not been heard at the time of his death, he was technically never proven guilty.

You can share this story on social media: