Solar panel breakdown forces ISS crew to ration power
Published time: 3 Sep, 2012 11:00
Edited time: 3 Sep, 2012 15:00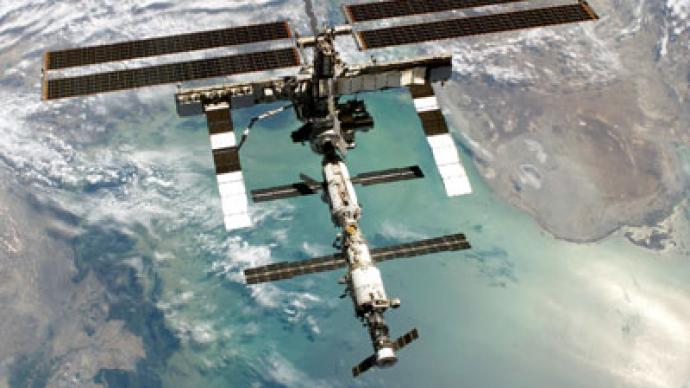 The crew of the International Space Station was forced to ration electricity after three solar panels malfunctioned last week. The astronauts were forced to deactivate some scientific equipment, and are preparing for a spacewalk to make repairs.
­The astronauts were unable to properly install a Main Bus Switching Unit (MBSU1) during the previous repair attempt on August 30, causing the station to lose power from two of its solar panels.
A Direct Current Switching Unit (DCSU) also malfunctioned – possibly due to a sudden spike in voltage – sending a third solar panel offline, Interfax reported, citing an unnamed source in the Russian space industry.

"That is why three solar panels out of eight do not function and some scientific and life support equipment has been disconnected," the source said.
The ISS crew was forced to disconnect secondary scientific instruments in both the Russian and American modules of the ISS, the source said. Scientists also reported that the alpha magnetic spectrometer delivered during the final flight of NASA's space shuttle program is frequent cause of energy supply problems on the station.
The power rationing will continue until September 5 when NASA's Sunita Williams and Japan's Akihiko Hoshide will conduct a spacewalk to finalize the installation of the MBSU1 unit.

While attempting to replace the MBSU1 during the August 30 repair attempt, astronauts encountered problems while trying to unscrew two fastening bolts. The new unit was then fastened improperly, which caused a connective failure in the equipment. The unexpected difficulties caused the spacewalk to last for eight hours and 16 minutes, instead of the planned six-and-a-half hours.
Besides connecting the MBSU1, the astronauts are expected to install and connect power cables for Russia's Multipurpose Laboratory Module, which is expected to arrive at the ISS next year. The crew also plans to replace an outboard TV camera and a lighting unit, and to repair a turntable boom manipulator of the SSRMS (Canadarm 2) station.
It is possible that the astronauts will be forced to conduct a third spacewalk to repair the broken DCSU switchboard, and to restore the inoperative third solar panel, Interfax reported.
The spacewalk will begin on September 5 at 11:15 GMT.
The ISS is no stranger to emergency situations: In December 2010, all communication with the ISS was lost during a failure of the station's fiber optic network.
And in May 2008, the station's toilet stopped functioning. Though the crew managed to fix the problem, astronauts had to relieve themselves in the toilet of the Soyuz space craft docked with the ISS while the repairs were being made.
AFP Photo / NASA