Black, black Friday in Iraq: 50+ people dead in cross-country attacks and kidnappings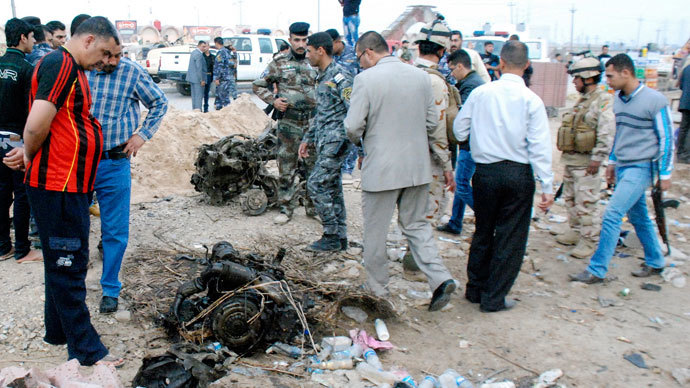 At least 51 people were killed in Iraq on Friday as the country continues to slip into sectarian violence while the year's death toll, already in the thousands, continues to spiral upwards.
Follow RT's timeline of Iraq violence in 2013.

The majority of the victims came from a series of kidnappings in Baghdad and nearby towns, which saw people taken from their homes and executed, with their corpses later abandoned, authorities told AFP.

Police discovered the bodies of 18 males in the early morning, including two tribal chiefs, four policemen and an army major, dumped in farmland near the Sunni Arab town of Tarmiyah, just north of the capital.

Another similar incident took place in Salaheddin province where seven men, who were employed as maintenance workers at a local football pitch, were found dead with their throats cut.

Three more female corpses were discovered in the capital -- the women were apparently tortured before being shot in the head.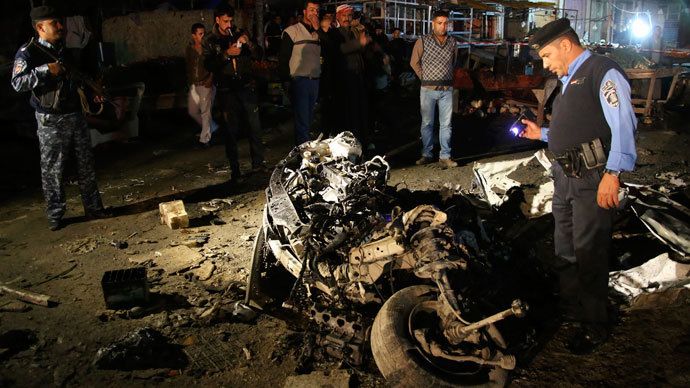 Also on Friday, separate attacks in and around Baghdad and Sunni Arab towns of Mosul, Baquba and Kirkuk killed another 23 people, officials said.

Among the incidents was a bombing of a football pitch in the west of the capital that left five dead, and a gun attack against a brothel in Baghdad's east that left six people dead.

Friday's killings cap a week in which more than 200 people were killed throughout parts of the country.

Violence in Iraq has seen a drastic increase since April, when the Shiite-led authorities stormed a Sunni protest camp in the north of the country, which resulted in multiple casualties.

The Iraqi government has recently stepped up its efforts to tackle Al-Qaeda in the country, but it does not seem to be enough as terrorist attacks continue on a daily basis.

This year has already seen over 7,000 Iraqis killed, according to the Iraq Body Count project, making 2013 the bloodiest period since 2006-07, when tens of thousands perished in sectarian violence.