Twin bombings hit Shiite mosque in northern Iraq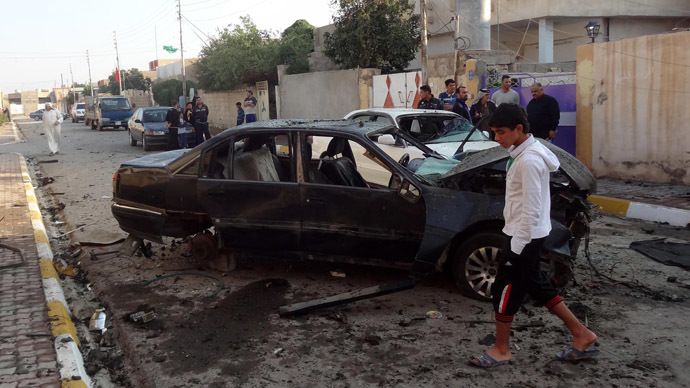 Several attacks have hit the country's north including a twin bombing of a Shiite mosque, which killed at least 15 people and injured dozens.
Follow RT's timeline of Iraq violence in 2013
A further 54 people were wounded at the Shiite mosque, police and medical sources said according to Reuters.

Tuz Khurmatu is located 170 km north of Baghdad in an area which both the Baghdad central government and the Iraqi Kurdistan autonomous region claim as theirs.
The first of the two blasts hit the Imam Ali mosque, in the middle of a crowded market and shortly afterwards a suicide bomber blew himself up at the entrance to the mosque.
"I am sure the attack was carried out by Al-Qaeda. There is major destruction and damage in the area because it is located in the center of a market," an observer called Adbul told AFP.
More violence on Saturday in Baghdad and two other cities in the north Tal Afar and Tikrit, left another five people dead.
No one has claimed responsibility for any of the attacks but Sunni militants linked to Al-Qaeda often target Shiites and Sunnis in a bid to undermine the authorities.
Violence has killed 200 people this week alone and has forced Iraq to ask for international help in combating the insurgency.
Hundreds of Iraqis have been killed every month in 2013, and the frequency and severity of bomb attacks has raised fears that Iraq could descend once more into the kind of sectarian bloodshed of 2006-2007, when tens of thousands died.
Nearly two years since US troops withdrew from Iraq, security forces are struggling to combat the violence. Insurgents, some linked to Al-Qaeda, have also benefited from the civil war in neighboring Syria.
You can share this story on social media: