Iraq would 'welcome' US drones to fight Al-Qaeda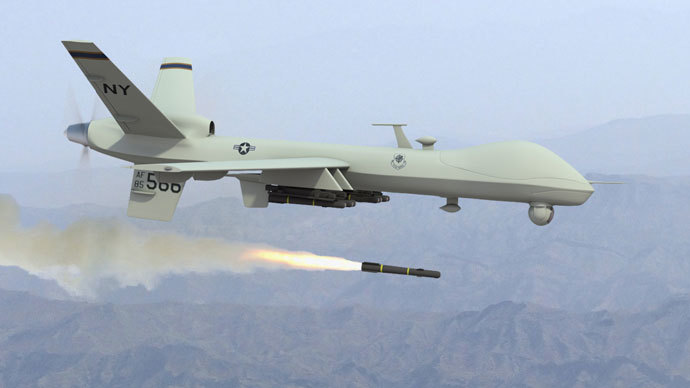 Iraq's foreign minister says that Baghdad is seeking US aid to fight terrorists, which could mean that lethal drones will soon be stationed in the country. It comes less than two years after US troops left Iraq amid unceasing sectarian violence.
The recent surge of violence in Iraq has prompted the country's government to seek a new US aid package, Iraqi Minister of Foreign Affairs Hoshyar Zebari told reporters on Friday.

Zebari, who spoke in Washington during his US visit, said that "there is greater realization in the Iraq government that we should not shy away from coming and asking for some help and assistance."

When asked about details of the assistance package, top Iraqi officials said it could include a "limited" number of American counter-terror advisers stationed in the country.

The officials added that the package could also include some aid in the form of intelligence analysis and surveillance assets, including unmanned aerial vehicles – otherwise known as drones – for targeted strikes.
The country's government would "welcome American reconnaissance over Iraq" and near its borders, Zebari said.

According to Zebari, the US has largely had an "indifferent" policy towards Iraq ever since US troops withdrew from the country in 2011, following failed negotiations on their prolonged stay. However, he says that Americans cannot help but be concerned with the rising Al-Qaeda influence in the region.

"Recently I noticed, and during this visit specifically, there is a renewed interest because of the seriousness of the situation and the challenges. I think that is because of the threat of terrorism, the threat of the renewal of Al-Qaeda and its affiliates, has become a serious, serious concern to the US," the Iraqi foreign minister said, as quoted by AP.

Referring to the shipment of arms from Iran to Syria, and from Syria to Iraq, US Secretary of State John Kerry – who met with Zebari on Thursday – called Iraqi airspace a "two-way street." The US has said that weapons ferried via Iraqi airspace are intended for the embattled Syrian regime, as well as for extremist fighters inside the Iraqi state. Washington has urged the country's government to curb both flows. 
Iraq has indeed been troubled by a surge in activity from militant groups, with Al-Qaeda affiliates claiming responsibility for the recent string of deadly attacks which left dozens killed and hundreds wounded. At least 671 people were killed in Iraq this year during the Muslim holy month of Ramadan alone, making it the bloodiest Ramadan in the country since 2007.

But while the Iraqi government has been struggling to cope with rising sectarian violence, critics have been saying that the 2003 invasion of Iraq waged by the US and its NATO allies was in fact the decisive factor for the decade of bloodshed that ensued.

More than ten years since Saddam Hussein was toppled, many Iraqis say they still feel unsafe in a country freed from his dictatorship, living in constant fear of terrorist bomb blasts and armed militant attacks.

While the US has already paid a cost of some 4,500 troops killed and US$767 billion of taxpayers' money spent during the war in Iraq, it appears it will have to spend more on sorting out the troubles that the US-sponsored Shia-led government is seemingly incapable of solving.

Last week the US State Department offered a $10 million reward for information leading to the death or capture of Al-Qaeda in Iraq head Abu Bakr al-Baghdadi.

"It's kind of ironic that the US now have to chase Al-Qaeda in Iraq, while before the war Al-Qaeda was almost totally absent from the country," remarked policy coordinator at Third World Health Aid, Marc Botenga, who investigated humanitarian consequences of the Iraqi campaign.

Botenga told RT that he believes the rise in militant activity in Iraq was caused by the "chaos the military intervention brought about," adding that "when you destroy a country, obviously, all kinds of terrorists groups and armed groups will be free to act."

According to the activist, neither the US bounty nor the drone strikes will solve the problem of terrorism in Iraq. Instead, he believes "genuine sovereignty" should first be given back to the country, with people being able to express themselves through popular participation, and foreign advisers no longer guiding Iraqi ministers.

Ultimately, "terrorism is not fought just by repression, it's fought by giving basic services," Botenga stressed, saying that the Iraqis should be guaranteed "decent" healthcare and education systems.