Over 500 'Al-Qaeda militants' escape Iraq's Abu Ghraib in violent break-out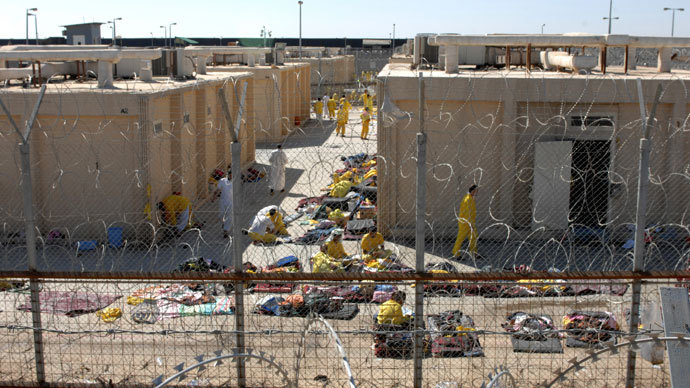 A manhunt is underway in Iraq for hundreds of convicts, including senior Al-Qaeda terrorists, who broke out of Abu Ghraib prison after a military-style raid to free them, authorities said on Monday.
The militant Islamist organization has claimed responsibility for the assaults on Iraq's Abu Ghraib and Taji prisons, Reuters quoted Al-Qaeda's statement posted on militant forums.
The attacks were allegedly carried out after months of preparations on behalf of the Islamic State of Iraq and the Levant, which is a merger between Al-Qaeda's affiliates in Syria and Iraq.
Between 500 to 1,000 prisoners have escaped as a result of the attack, "most of them were convicted senior members of Al-Qaeda and had received death sentences," said Hakim Zamili, a senior member of the security and defense committee in parliament.

Suicide bombers drove cars with explosives into the gates of the prison on the outskirts of Baghdad on Sunday night, while gunmen attacked guards with mortar fire as well as rocket propelled grenades.

Other militants held the main road, fighting off security reinforcements sent from Baghdad, as several insurgents wearing suicide vests entered Abu Ghraib on foot to help free the inmates.

Ten policemen and four militants were killed in the fighting, which continued until early Monday, when military helicopters arrived to help regain control.

By that time, hundreds of inmates had succeeded in fleeing Abu Ghraib. The security forces arrested some of them, the rest are still free, Zamili commented.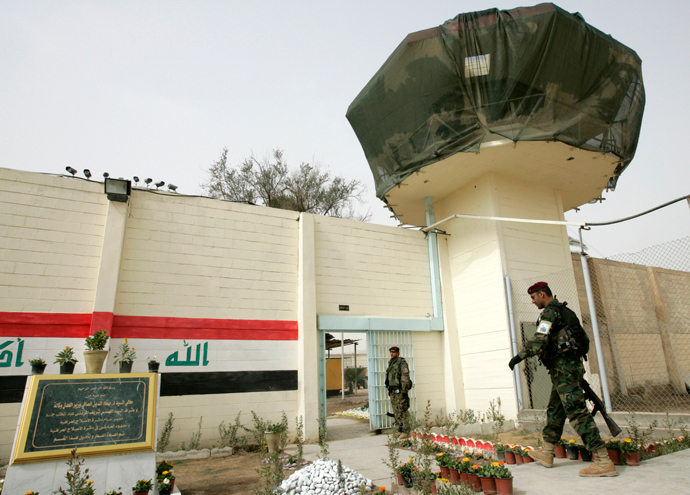 "It's obviously a terrorist attack carried out by Al-Qaeda to free convicted terrorists with Al-Qaeda,"
another security official told Reuters on condition of anonymity.
Jihadist accounts on Twitter claimed that not 500, but thousands of prisoners had escaped from the detention facility. A number of users also posted similar claims on the Honein jihadist forum, AFP news agency reports.

The Abu Ghraib capable of holding around 15,000 inmates has become notorious a decade ago after photographs showing abuse of prisoners by US soldiers were made available to the public.

A simultaneous attack on another prison, in Taji, to the north of Baghdad, had a similar scheme, but guards prevented a break-out. 16 soldiers and six militants were killed there.

The attacks on the tow prisons came a year after Al-Qaeda's Iraqi front group announced that it would be targeting the country's justice system.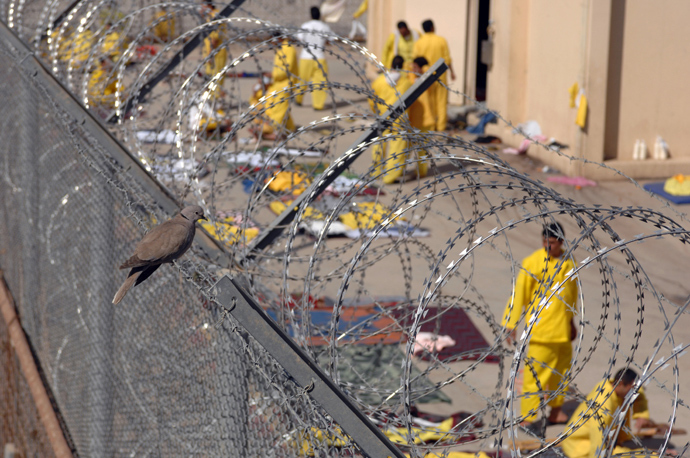 "The first priority in this is releasing Muslim prisoners everywhere, and chasing and eliminating judges and investigators and their guards,"
said an audio message attributed to the group's leader, Abu Bakr al-Baghdadi in July 2012.
Sunni rebels, including Al-Qaeda-affiliated, have been gaining strength and regularly striking Shiite Muslims and security forces. The violence has increased fears of a return to conflict in the country. 
But ultimately, Flounders concludes that the international audience shouldn't be surprised at the news, because Western efforts in Iraq have not shown any signs of addressing the actual spread of sectarian violence in Iraq after the toppling of Saddam Hussein. In the city of Mosul to the north of Baghdad, a suicide bomber detonated a vehicle with explosives behind a military convoy, killing at least 22 soldiers and three passers-by, police reported.

Recent attacks have targeted mosques, football matches, shopping areas and cafes where people meet after breaking the daily fast for the holy month of Ramadan. 
However, despite widespread claims that the escapees are largely affiliated with Al-Qaeda, there is no way of knowing, says Sara Flounders, head of the International Action Center. She also told RT that not much is known about Abu Ghraib itself after the US handed over control to the Iraqi government, following its withdrawal from the country. 
"The state of security hasn't substantially improved since. We know also there are many operatives left in Iraq that continue US policy aims. There's a lot that's uncertain and unknown today in Iraq. We do know there was a prison break. But before we rush to label everyone Al-Qaeda, let's be aware that Abu Ghraib itself as a prison was notorious for US torture techniques… it was turned back over to the Iraqi government and we have no idea if any conditions improved."
But ultimately, Flounders concludes that the international audience shouldn't be surprised at the news, because Western efforts in Iraq have not shown any signs of addressing the actual spread of sectarian violence after the toppling of Saddam Hussein, while billions of dollars were misspent – an opinion shared by defense consultant Moeen Raoof.
"The Iraqi government isn't controlling anything… [It] hasn't been spending its oil funds on security… the toppling of Saddam Hussein was a fatal, fatal mistake," one that will be repeated in Afghanistan, after complete US withdrawal, he believes.
Nearly 600 people have been killed in militant attacks across Iraq so far this month, according to the monitoring group Iraq Body Count.

You can share this story on social media: