Around 80 killed, 200 wounded in string of bombings in Iraq
At least 80 people have been killed and 200 others wounded in a series of bombings in Iraq. The deadliest explosions took place in the Iraqi capital of Baghdad, according to police and medical officials.
Twelve separate car bomb explosions targeting markets and shopping streets killed at least 57 people and wounded 150 others in mainly Shiite areas of Baghdad, according to medical officials.

The deadliest of the attacks took place near an outdoor market in a south-eastern Baghdad suburb shortly before sunset, killing seven people and wounding 20 others.

Meanwhile, officials say that ten people were killed and at least 45 others wounded when a suicide bomber detonated an explosive device inside a car on a busy street in the Iraqi town of Tuz Khurmato, located 170 km north of Baghdad. The bomber was trying to reach the local headquarters of a Kurdish political party, but was unable to do so because of increased security in the area, police said. Tuz Khurmato is located in a region where both the central government and the autonomous Iraqi Kurdistan both claim jurisdiction.
Twin car bomb blasts killed six people and wounded 25 others in the town of Nassiriya, located 300 km south-east of Baghdad, local police sources said. The explosions reportedly took place near a park.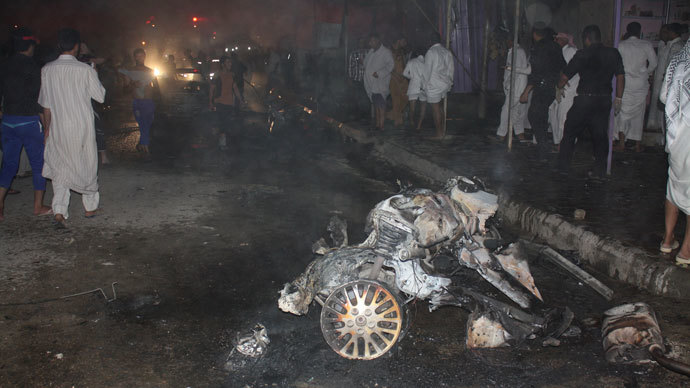 The Shiite city of Kerbala was also hit by several car bombs, killing four and wounding 11 people. So was the city of Kirkuk, in the north, where one worshipper was killed and five people were wounded.
The bombings were reportedly similarly coordinated to attacks in Baghdad on Tuesday which killed 50 people.

The string of bombings comes as Iraqis celebrate holiday of Eid al-Fitr. Police have increased security during the celebration, which marks the end of Ramadan. This year's Ramadan was the most violent since 2007, with 671 people killed.

There has been a surge in violence in Iraq since the start of the year. According to figures released by the UN, over 1,000 Iraqis were killed in July, making it the highest monthly death toll since 2008.

Sunni Islamist militants - including those linked to Al-Qaeda - frequently target members of Iraq's Shiite-led government. Iraq has been plagued by sectarian violence over the past several years, resulting in the deaths of tens of thousands of people.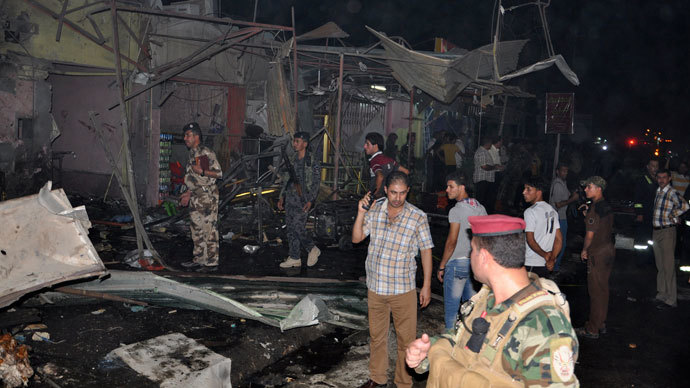 You can share this story on social media: