Suicide attack kills 39 in Iraq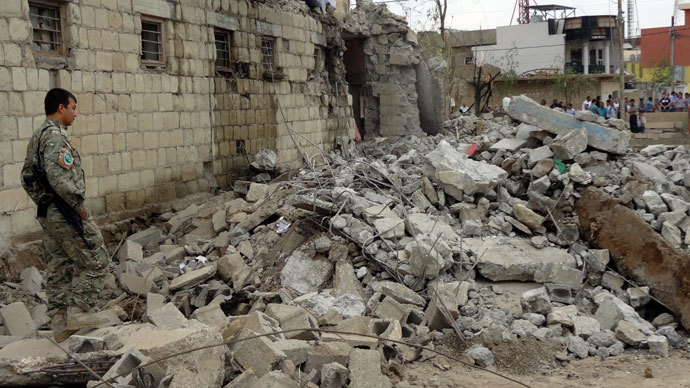 At least 39 people have been killed and an unknown number injured in a suicide bomb attack at a café in northern Iraq, according to local police and medics, Reuters reports.
The Friday blast took place in a coffee shop in the ethnically mixed city of Kirkuk, 250 km (155 miles) north of the capital Baghdad. Customers were relaxing after breaking their fast for the Muslim holy month of Ramadan.
"I left the cafe to go to my shop opposite. When the explosion happened the glass of my shop shattered and I was injured by the fragments. I rushed to the scene... some bodies were dismembered," Mohamed, a witness, told Reuters.
AFP spoke to a medical official who claimed the attack was caused by a suicide bomber. However, that has not been officially confirmed and no one has claimed responsibility for the bombing.
Hours before the attack, a Sunni cleric Salah al-Nuaimi urged calm among worshipers at a joint Sunni-Shiite sermon Friday in Baghdad.
"Enough is enough. We all love Iraq, we are all Iraqis and we want to be united. We want to stop the bloodletting and develop and build and Iraq."
Another suicide bomber and a shooting elsewhere in the country killed five members of the security forces, bringing the total death toll on Friday to 43.
No one has claimed the responsibility for any of the recent blasts, but Sunni extremists, including members of AL-Qaida, often target Shiites, the security forces and civil servants as part of concerted campaign to destabilize the government in Iraq.
The Shia have been the main power in Iraq since the 2003 US-led invasion, but militants have been regaining power and recruiting Sunnis in recent months, leading to sustained violence.
Oil-rich Kirkuk also lies on a disputed line between the Shia government in Baghdad and the Kurdish minority seeking to incorporate the city into their region in the north.
Sectarian violence between Iraq's Shia majority and Sunni minority has taken thousands of lives this year, with 761 people dying in the month of June, according to the United Nations.
You can share this story on social media: