At least 13 dead as building collapses in India's Goa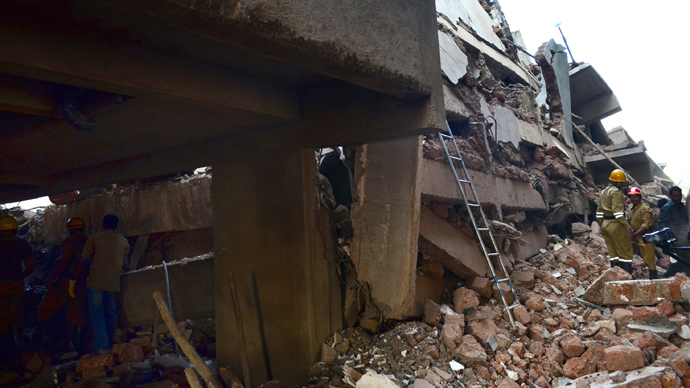 At least thirteen people have been killed and dozens others trapped in the rubble after a building under construction collapsed in the state of Goa, West India, local officials have said.
Rescue workers continued to work at the scene of the collapse in the town of Canacona, using cranes, bulldozers, shovels and bare hands to pull the trapped people from under the debris.
"We have got 13 bodies from the wreckage. We expect the death toll to rise," Goa Chief Minister Manohar Parrikar told the agency.
"We will immediately arrest the builder, the contractor and municipal officials involved in sanctioning this construction site," Parrikar added to Indian media.
Five more dead bodies found. Toll goes to 18 in Canacona building mishap. pic.twitter.com/Y3bpIlDXEg

— rupesh samant (@goabreakingnews) January 4, 2014
Earlier, local IANS agency quoted the official as saying that at least thirteen other workers were freed from the rubble and taken to hospitals with various injuries.
More than 40 construction workers have been caught in the collapse, according to Indian media. Up to 75 people were reportedly inside the building, which was apparently in the process of being built when it came crashing down.
"It was like an earthquake when the building fell," witness Ramesh Naik was quoted as saying by AP. "You could not see what exactly had happened because of the dust."
7 killed in building collapse in #Goapic.twitter.com/CACq8rUx7p

— ANADOLU AGENCY (ENG) (@anadoluagency) January 4, 2014
The collapsed construction was a three-storey building of the so-called Ruby Residency, police told local news agency IANS.
Fire engines and ambulances have been dispatched to the site of the incident, which is some 80 kilometers to the south of Goa's capital of Panjim.
Canacona building collapsed. Six bodies recovered. pic.twitter.com/flrbcebonv

— rupesh samant (@goabreakingnews) January 4, 2014
The collapse of a building is not uncommon news for India, but such accidents are usually related to badly constructed or illegally built buildings. One such eight-story building, where about 150 people lived and worked despite it still being under construction, collapsed in April 2013 near Mumbai, killing 72 people and injuring dozens more. Another five-story building came crashing down in Mumbai in September, killing more than 60.
You can share this story on social media: