Miraculous survivals as death toll in Mumbai building collapse climbs to over 70 (PHOTOS)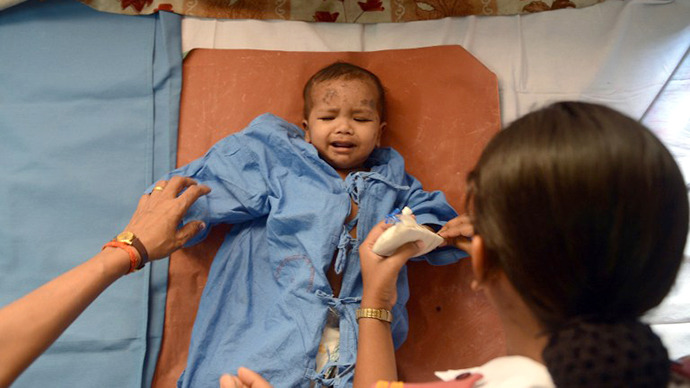 Indian rescuers have finished the search of the collapsed building in Mumbai that killed at least 72 people. A woman was rescued after 36 hours trapped under the rubble, while a 10-month-old baby girl was pulled out alive after 29 hours.
The girl, whose identity could not be verified, was immediately taken to hospital and is said to be doing well.

"We have named her Gudiya [doll] because she looks like a doll," one of the hospital staff told NDTV.

He added that according to one of the patients, the girl's mother and aunt were still trapped in the rubble. The chances they will survive are, however, low. On Saturday – after 42 hours of search – the rescue operation was proclaimed over.

In another, even more astounding tale of survival, a four-year-old was pulled out after spending more than 40 hours under the debris.
On Thursday evening an eight-story building, which was still under construction, collapsed in the Mumbai suburb of Thane.
There were between 100 and 150 people in the building at the time of the accident. Dozens were trapped by the debris. As of Saturday the death toll has reached 72, including 17 children.
It is unknown what caused the accident, but police reported the building had been constructed illegally. Authorities are currently looking for those in charge of construction works.
There are over 2,000 illegal structures built in the area where the building collapsed, the municipal spokesman said.
Building collapses are commonplace in India as builders try to save on constructing materials and neglect safety rules.