Train station stampede kills 36 at largest Hindu festival in India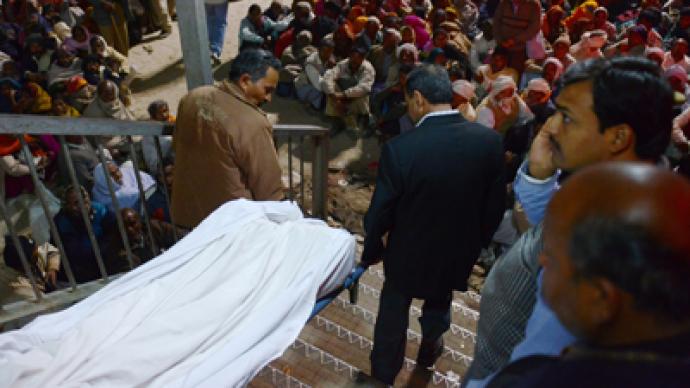 Thirty-six people have been killed in a stampede in northern India, where millions of pilgrims flocked for a major Hindu festival. The victims died as the crowd rushed to a train arriving at a different platform than expected.
Twenty-three of the victims of the stampede in the city of Allahabad were women, said Dr. P. Padmakar, medical superintendent of the main state-run hospital in the area. Dozens others were injured in the incident.Tens of thousands of people were waiting to board a train in Allahabad's main rail station on Sunday, when officials announced last-minute change of platform, according to eyewitness reports.People rushed on to a footbridge when, according to some accounts, police tried to control the crowd using batons. This reportedly triggered the fatal stampede."People started tumbling over one another and within no time I saw people, particularly women and children, being trampled over by others," passenger Shushanto Kumar Sen told AP.
The police however denied the allegations, putting the blame on mismanagement by the railway."It was simply a case of overcrowding. People were in a hurry to go back and there were not enough arrangements by the railway authorities," said Arun Kumar, a senior police officer.India's railway minister Pawan Kumar Bansal said an inquiry has been launched into the causes of the incident.Chief organizer of the festival Mani Prasad Mishra resigned following the tragedy.
Indian TV said police struggled to restore order at the rail station as the crowds continued jostling."There was complete chaos. There was no doctor or ambulance for at least two hours after the accident," an eyewitness told NDTV news channel.
The people were visiting Allahabad to take part in Kumbh Mela, a Hindu festival held every three years. The city is one of four locations that rotate hosting the gathering in a 12-year cycle. According to Hindu belief, the nectar of immortality was spilled over the four Indian towns as gods and demons waged a battle for it.The festival, which attracts tens of millions of devotees, lasts 55 days and includes bathing ceremony at the Sangam, the confluence of the Ganges, the Yamuna and the Saraswati rivers. The ritual is said to wash away the burden of lives past and present and further a soul on its path towards breaking from the cycle of reincarnation.The pilgrimage, which is among the most important Hindu festivals and the largest of its kind, also includes religious discussions, singing and feeding of holy men and women.
You can share this story on social media: