'Protesting Israel's aggressive policies': Far-right party promotes anti-Semitic mood in Hungary
Neo-Nazi sentiments are on the rise in Hungary, where the far-right Jobbik party is enjoying major public support. The European Commission is expressing "great concern" over the rise of anti-Semitic incidents across the EU.
The wave of Anti-Semitism in Hungarian society is "especially shocking" for local Jews, who remember the country's "very tragic history," RT's Aleksey Yaroshevsky reports from Budapest.

"In the 1940s, Hungary's Jewish community was one of the largest in Europe, but the Nazi invasion changed all that, with more than half-a-million people perishing in the Hungarian holocaust," he said.

The police are expecting more nationalist protests in Hungary's capital on Tuesday as the city hosts "The Jewish life and anti-Semitism in contemporary Europe," conference on October 1-2.

International lectures at the event will focus on the causes of anti-Semitism and how to tackle it, as well as offering an analysis of the political, cultural and religious situation of European Jewry.

European officials have sounded the alarm over the increasing number of anti-Semitic incidents across the bloc, pledging to "vigorously oppose the forces of anti-Semitism."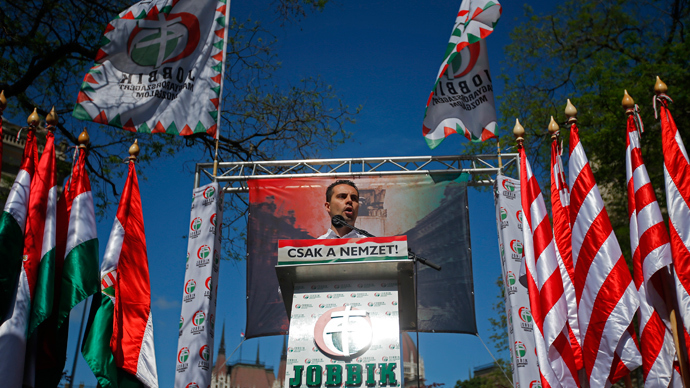 "The European Commission has noted, with great concern, reports of a rise in anti-Semitic incidents in the EU. Anti-Semitism has no place in European society or indeed any society. We are a Union that treasures diversity and protects the rights of individuals to lead their lives as they wish," Jose Manuel Barroso, European Commission President, said in his letter to European Jewry, written in September.

The rise in anti-Semitism began in the county [Hungary] several years ago. In August 2012, Hungarian fans booed the Israeli national anthem and chanted the names of fascist leaders during a friendly match between the two countries' national football teams in Budapest.

Another football game, several months later, saw an attack by hooligans on Ferenc Orosz, the leader of Hungary's anti-racist Raoul Wallenberg Foundation.

"I heard a bunch of fans chanting Nazi slogan, Sieg Heil. I asked them to stop, but they ignored me. Then after the game they attacked me, one of them hit me in the face and broke my nose," Orosz said on local television.

The Hungarian Jewish community says that the incident was just one link in a long chain of anti-Semitic and inter-ethnic tensions in the country.

"We keep hearing anti-Semitic slogans and sentiments from inside our parliament and in some of our press," Andras Heisler, president of the Federation of Jewish Communities in Hungary told RT. "If you remember Nazi Germany, everything also started with rhetoric, then came concentration camps and gas chambers. And in Hungary sometimes this vocal racism sometimes turns into real violence – like the six gypsies, who were killed by a gang of nationalists a few years ago."

In August, three members of the neo-Nazi gang, who killed six Roma gypsies in a series of planned attacks in 2008 and 2009, were jailed for life, with another perpetrator being handed a 13-year sentence.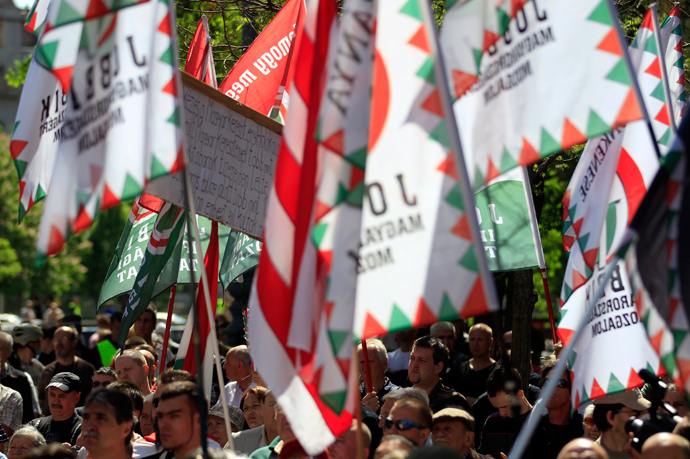 In May, The World Jewish Congress even decided to hold its annual event in Budapest to highlight what they believe is escalating anti-Semitism in this Central European state.

"Jews are again wondering whether they will have to leave the country," Ronald Lauder, the Congress's president, said at the time.

Lauder also stressed that the statues of Hungary's wartime leader during the mass deportation of Jews, Miklos Horthy, erected by several of the country's small municipalities were sending "the wrong signals."

The far-right Jobbik party currently is the third-largest in the country. It has previously staged several massive anti-Semitic rallies in the streets of Hungarian cities.

The party's leader leader, Gabor Vona, says the protests had nothing to do with racism, but were aimed at drawing attention to what he claimed to be the aggressive policy of Israel.

"Israeli president [Shimon] Peres once said that the only other way to prevail without military action was by economic means," Vona explained. "And later he said Israel will invest a lot of money in Hungary. We have been witnessing a huge influx of capital from Israel to our country since then and have tried to find out what was behind it, but the Jewish community called us Nazis and refused to speak to us. That's why we protested."

The radical party is planning another major rally for Hungary's National Day on October 23, inviting everyone, who feels "cheated and humiliated" by the country's governments of the past 24 years, to take part.

Jobbik made headlines after getting into Hungary's parliament in 2010, while the country's economy was ailing. And, judging by opinion polls, they're looking to strengthen their position after next year's vote.