Germany doubles arms supplies to Persian Gulf nations - report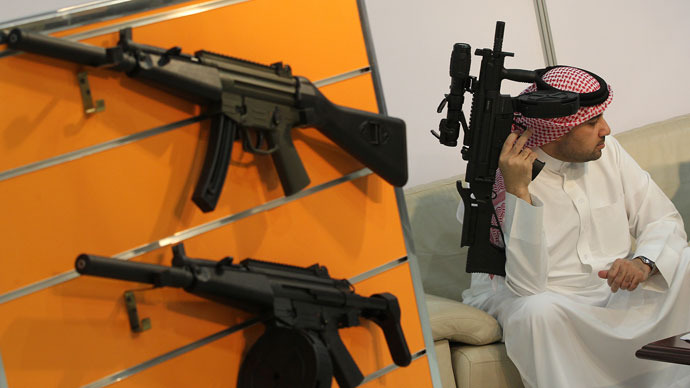 German military exports to Persian Gulf nations doubled in 2012 amid repeatedly-voiced international concerns over gross human rights violations in the region. The German government has been fiercely accused of unscrupulousness in arms sales.
The latest report published by Munich-based Süddeutsche Zeitung newspaper suggests that German arms export to the six nations belonging to the Cooperation Council for the Arab States of the Gulf has grown two-fold, from 570 million euro in 2011 to 1.42 billion euro in 2012.
The report cites Germany's Economy Ministry which has named Saudi Arabia as the biggest buyer of German-made weapons, buying 1.24 billion euro worth of German security hardware last year (1.1 billion euro of which was spent on border security devices).

The other countries are Bahrain, Kuwait, Oman, Qatar and the United Arab Emirates.
All these countries have been accused of violating human rights on a regular basis.
In Saudi Arabia demonstrations are simply illegal, human rights activists are tried behind closed doors, and beheading is still a norm.

In Bahrain riot police have been violently suppressing peaceful demonstrations with teargas and stun grenades for two years now, as frequent antigovernment protests have been ongoing in the country since February 2011. Many people have died in the protests, while many more were arrested.
Human rights are also defied in the UAE, Qatar and Kuwait.
Still, in times of system economic crisis in Europe, Chancellor Angela Merkel's cabinet has given its blessing to German armorers to cash in on the feverish demand caused by the Arab Spring.
However, German arms sales growth has been achieved painfully because of specific legal regulations in the country.
German companies are prohibited from exporting military and security hardware without approval by the Federal Security Council, Bundestag's special committee. The council, consisting of Chancellor Angela Merkel and eight key cabinet ministers, conducts meetings behind closed doors.
Through all of 2012 opposition Social Democratic Party (SPD), Greens, the Left party and peace activists were out for the scalps of Merkel's cabinet members, roundly condemning cabinet's decisions to allow selling advanced weapons to Persian Gulf countries.
A report published in 2012 by the London-based Amnesty International (AI), claimed that German small firearms, ammunition and military vehicles were massively used by Middle East and North Africa regimes to suppress peaceful demonstrations.
In July 2012, Germany's opposition MPs were outraged with Berlin's decision to sell 200 advanced Leopard tanks to Qatar, a country with proven violations of human rights.
Merkel's opponents accused her of 'moral bankruptcy' and supporting dictatorships that suppress their people.
But Angela Merkel's cabinet has been consistent in backing country's military-industrial complex and continues this policy despite any critics from within or abroad.
In December 2012 the members of the Federal Security Council again drew fire upon themselves by approving of a multimillion-euro arms deal proposal from Saudi Arabia, notorious for its poor human rights record.
The critics claimed the decision would not comply with German export regulations, pointing out that Berlin cannot guarantee the weapons wouldn't be re-exported to third countries. But the chancellor stuck to her guns and the deal was given the green light.
Summing up 2012 arms sales, Germany's Economy Ministry pointed out that the figures are preliminary and the final results published in the government's arms export report towards the end of the year will be much higher.
In February 2013, the Federal Security Council approved the sale of patrol vessels to Saudi Arabia, ready to pay 1.5 billion euro for boats manufactured by Bremen-based Lürsen shipyard. Due to confidentiality the contract was kept secret till the very last moment.
The parliamentary opposition spoke against the deal, claiming such exports go against Germany's interests.
"It is simply not true that Saudi Arabia plays a clear role against terror," Greens leader Jürgen Trittin told German ARD public television on February 11.
The opposition Left party also lashed at the cabinet. German parliamentarian from the Left party Jan van Aken said that "the worst human rights violations were apparently no longer a reason to deny approval of exports." But Angela Merkel and her cabinet had set their teeth.
"This is a huge scandal of German politics and it is also against German law," German peace movement veteran Reiner Braun told RT, explaining that German law prohibits selling arms to conflict zones, while the Arab world has many conflict zones.
Germany uses a "totally undemocratic system" to sell weapons in such regions, Braun said: "They believe that the support of these regimes will help to secure resources Germany needs from this region."
"The brutal reality of arms export is people suffering," he added. "It is a criminal business and it has to be forbidden generally. But this is a very long-term fight. We're very happy that 75 percent of the German population is against that brutal business."
So far the report published by Süddeutsche Zeitung newspaper has not been given any official comments.
You can share this story on social media: