Saudi Arabia: Beheadings for 'witchcraft'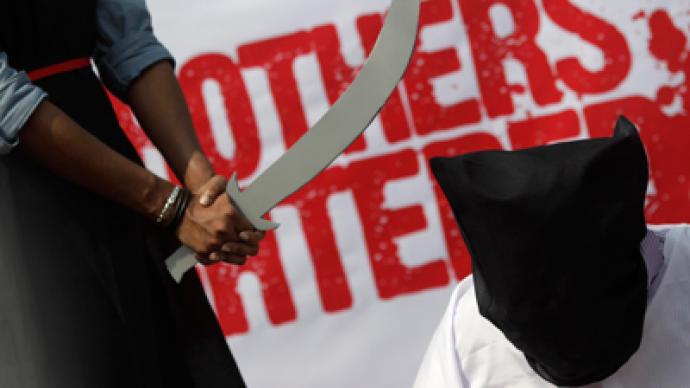 A Sri Lankan woman is currently facing decapitation by sword on a witchcraft charge in Saudi Arabia, in accordance with Wahhabism, a strict form of Sunni Islam. The UN reports executions tripled in the kingdom in 2011.
A Saudi man complained that in a shopping mall his 13-year-old daughter "suddenly started acting in an abnormal way, which happened after she came close to the Sri Lankan woman," reports the daily Okaz. After the local man denounced the Sri Lankan for casting a spell on his daughter, police in the port city of Jeddah found it sufficient cause to arrest the woman.Witchcraft and sorcery imply only one measure in Saudi Arabia – beheading. And it works this way in practice: last year in the kingdom at least two people – a woman in her 60s and a Sudanese man – were beheaded on witchcraft charges.In the absolute monarchy that Saudi Arabia is, a criminal code does not exist per se. Court sentences are based on Islamic Sharia law on the interpretation of judges.
No sticking your neck out under Sharia law
Capital punishment is applied regularly and indiscriminately to locals and foreign citizens. According to Sharia law, crimes that imply capital punishment are numerous. It could be anything from murder and terrorism to apostasy, idolatry and blasphemy.Still, Sharia law leaves a loophole for those who have money. In the case of murder, the "eye for an eye" principle of Islamic law allows capital punishment to be replaced with Diyya ("Blood money") ransom paid by the family of the killer – if the bereaved family agrees.In oil-rich Saudi Arabia, the number of wealthy citizens is off the chart and the sum of Diyya could reach millions of dollars. But for those millions of guest workers who do most of the work in Saudi Arabia, this is definitely not an option. In case they are found guilty of a capital crime, execution by beheading is the only option left to them under Sharia law.The beheading of Indonesian national Ruyati binti Sapubi in 2011 sparked a widely-discussed scandal. The 54-year-old woman, who worked as a maid, was sentenced to death after she confessed of murdering her employer with a kitchen knife after suffering abuse.With about 1.5 million Indonesians working in Saudi Arabia, many of them as maids, the ruling caused an outcry in Indonesia, which even considered banning its women from working in the kingdom. After the Saudi Arabian ambassador officially apologized for the incident, the initiative was left in oblivion.The cases of mistreatment of maids, who came in waves to Saudi Arabia in the recent past, received a different attitude of national justice. In April 2011, a Saudi woman convicted of torturing her Indonesian maid successfully had her conviction quashed on appeal.In January 2012 the United Nations human rights office expressed concern with increased number of executions in Saudi Arabia. Compared to 2010 when 26 people got capital punishment rulings for various crimes, in 2011 there have been 76 executions in the kingdom. Among the beheaded were at least three women and 11 foreigners.
You can share this story on social media: