Cultures clash in battle over Islamic face veil, extremists add fuel to fire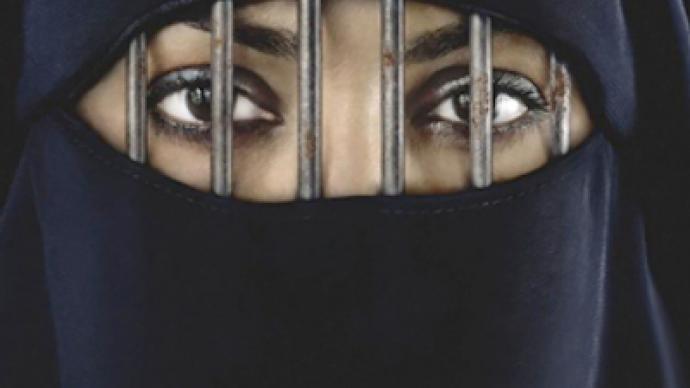 Al-Qaeda second-in-command Ayman al-Zawahiri has attacked the bill passed by French lawmakers, which could ban wearing Islamic face veils in public places, and has urged Muslim women to ignore it at any cost.
In an audiotape posted on one of extremists' websites on Wednesday, he dubbed France's move an attack on Islam, "a shameless war." What France is doing, he stated, should prompt Muslims to hold on to their religion "in the face of their deviant ideologies," AFP cited.
According to Osama Bin Laden's right-hand man, Muslim women cannot choose but stick to religious traditions and keep wearing the veil no matter what, even if the price is money, education and jobs.
Carrying on with his attack on the proposed ban, he drew a parallel between Islamic and Christian nuns' dresses, adding that while nuns are allowed to have their heads covered, every Muslim woman wearing niqab comes under attack in France.
Earlier, France's President Nicolas Sarkozy said the full veil, or burqa, "hurts the dignity of women and is not acceptable in French society", Herald de Paris cited.
On July 13, the lower house of the French parliament approved the ban on Islamic veils. According to the proposed regulation, women wearing full-length veils in public will have to pay a fine of 150 euro, or be required to take part in a citizenship class. However, the punishment for those forcing someone to cover their face will be a lot harsher: a year behind bars and a 30,000 euro fine.
To become law, the bill – which is supported by the majority of French population, including many Muslims – must also be approved by the Senate, where discussions are planned for September this year. After that, the legislation also has to be vetted by France's highest constitutional authority, the Constitutional Council.
Finding a compromise between people of deferent traditions and beliefs has become one of the trickiest issues for France's authorities, as the country is home to the largest Muslim population in Western Europe, estimated to be about five million.
The bill that sparked such heated debate both in Europe and in Muslim countries would, in fact, affect only about 2,000 French Muslim women who cover their faces in public. However, opponents insist the legislation is discrimination against women, since it denies their right to practice their religion, Islam, freely. Moreover, there are fears that the legislation might instigate Islamophobia.
The question is whether the fuss is really about women's rights or just yet another example of a never-ending battle between cultures and religions which cannot have winners. And perhaps banning full veils is just as bad as forcing women to wear them. The general view maintained by Muslims is that their women voluntarily hide faces and bodies under burqa – something a representative of a Western culture can hardly believe or understand.
Clerics recommend Muslim women avoid trips to France
Two Saudi clerics – Mohamed al Nujaimi, a scholar, and Ayed al Qarni, an author and cleric – have said that Muslim women are free from wearing full veils in France, wrote The National, Abu Dhabi's English newspaper. However, they added that it is recommended that women avoid traveling to the European country.
"Tourism to Western countries like France, while not forbidden, should be avoided in favor of Muslim countries where veils are allowed," they said, reports the paper, citing Al Watan daily.

The opinion of the clerics, however, is not binding, as neither of them is a member of the Council of Senior Scholars. Meanwhile, The National writes, many Saudis believe the French ban is an abuse of their human rights, and are therefore against visiting the country this summer.
"Europe is making itself a target for religious groups if it continues to support France's step," Waleed al Khair, a lawyer and human rights activist is quoted as saying. "As long as the veil is not threatening national security, France has no right to ban it. I don't think that veil is a threat there now."
But not all Arabs share this view. A female journalist, Yomen Loqman, says that if Muslims want Europeans to respect their beliefs, they should to do the same when it comes to European culture.
"When Europeans come to Saudi Arabia they respect our culture and laws and I think we need to respect theirs when we travel to their countries," she is cited as saying.
"When in Rome do as the Romans do"
Konstantin Remchukov, editor-in-chief of Russian Nezavisimaya Gazeta (Independent newspaper) says he approves of the bill passed by the French lawmakers.
"I believe there is a dominant culture and, at the same time, a culture that arrives in a country with people. I believe that the standards of the dominant culture should be either voluntarily accepted or denied by immigrants. That is why an immigrant is an immigrant: when in Rome do as the Romans do," he said in an interview with the Ekho Moskvy radio station.
Indeed, understanding and respect of the rights of minorities is one of the norms of modern society, he said. Yet, "if you like wearing the niqab, then do not live in Paris. Live in Jeddah [a Saudi Arabian city] instead. You would probably not be praised for that there, but surely would not be criticized," Remchukov said.
According to the journalist, France has huge experience in hosting people of different cultures and this is worth considering. "This highly cultural and experienced nation knows better than immigrants" how to help them to assimilate and become part of modern French society, which includes different people, he said.
"However, if those people came to France to built bastions of their religion, temples, and traditions, I believe France would not like that and would sweep those bastions away," he concluded.
Other countries consider following French example
Meanwhile, anti-burqa moods are spreading throughout Europe and laws similar to the French one are being mulled over in some other countries. Belgium and even Syria have already taken steps on the path.
In April, legislators in Belgium's lower house voted almost unanimously to ban veils that fully cover the face. The move fueled tensions between Muslims and non-Muslim Europeans, which have lately been on the rise. Earlier in July, Syria prohibited students and teachers from wearing the niqab at universities.
"I believe there should be no division on the principle of religious confessions in public schools," Evgenia Albats, The New Times magazine and its editor in chief told Ekho Moskvy. "If people want their children to be raised strictly in religious traditions – be it Christian, Muslim, Jew – they should teach them in private religious schools," she said.
On July 20, Spanish lawmakers rejected a ban on the Islamic veil. However, some parts of Catalonia – including the capital Barcelona – and Andalusia have already passed legislation prohibiting covering faces with niqab in public buildings, though not in public places or streets.
Unwritten laws for visitors to some Muslim countries
While slamming Europe for what they call "an abuse of human rights," some Muslim countries have rather strict dress and behavior codes – whether official or not – to be followed by visitors.
For instance, last year, a controversial report appeared in the media. It said that the Dubai Executive Council issued a list of guidelines for public behavior for the emirate's residents and visitors, reported All Arabiya News channel website, citing the Arabic-language Emarat al-Youm.
According to the rules, playing loud music, wearing short shirts, dancing, nudity, kissing and holding hands in public are considered inappropriate behavior. Those breaching the rules could face prison terms or deportation, the source reported. Officials refused to comment on the matter, however there have been incidents when foreigners were punished for behavior that is considered unacceptable in the Muslim society.
Not long ago, a British couple was arrested for kissing in a restaurant after a local woman complained her child had seen them. They were sentenced to a month in prison for inappropriate behavior and illegal drinking.
Cosmopolitan Dubai – a popular tourist destination and a place where thousands of foreigners work – is perceived to be the most tolerant and relaxed out of the seven United Arab Emirates.

Natalia Makarova, RT
You can share this story on social media: