Caucasus bandits use name of Allah as a shield - presidential envoy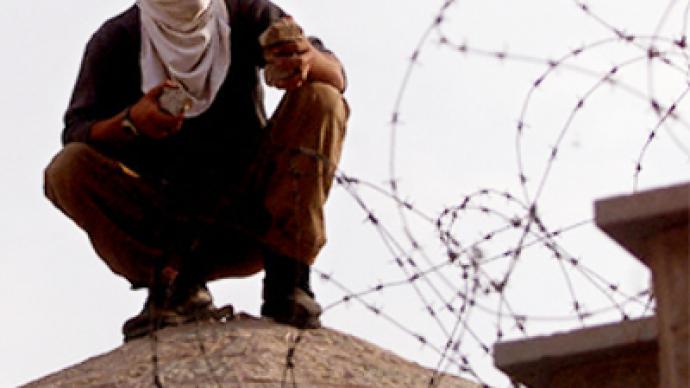 Criminal groups re-sharing property in the Caucasus wear the mask of terrorism and religious extremism, said presidential representative to the North Caucasian district Aleksandr Khloponin.
In an interview with Rossiyskaya Gazeta (RG) daily, Khloponin said that "We can deal well with the bandits that are hiding in the woods without imposing the counterterrorist operation regime."
He stated that they will "finish the terrorists off" adding that "our available forces are enough to hunt them down."
The problem, in fact, "is that the mask of terrorism and religious extremism is donned by bandits that have formed organized criminal groups engaged in the re-sharing of property," Khloponin said. "Fighting them is not what a counter-terrorist operation is supposed to do."
According to the official, active efforts should be devoted to solving those crimes and identifying the criminal groups.
"In some republics, criminal groups engage in racketeering and money extortion from businessmen. And all that is 'beautifully' camouflaged with the name of Allah and Islam. But they have nothing in common with real terrorism," Khloponin stressed. "So, I wouldn't speak about some large-scale expansion of terrorism in the territory of my district", he told RG.
One of Russia's worst social illnesses – corruption – hit the Caucasus more than any other region. President Dmitry Medvedev has said that it is so is so widespread in the region that "it is becoming a major threat for national security."
The presidential envoy, Khloponin says there are three ways to fight corruption.
"The first one is to form an independent judicial system, and the president is making very serious changes to the legislation to that effect," he said.
The second refers to "maintaining an ongoing dialogue with public organizations and forming a public opinion, so that people could send feedback to the powers that be and be able to believe that authorities can solve this problem."
The third, Khloponin said, is "staffing policy."
"We must form a staff reserve, information on which should be available from the authorities' informational resources, so people could form their opinions on future candidates for all federal and regional positions," he said, stressing that those positions should be assigned according not to clan affiliation, but to competence.
At the same time, Khloponin underlined, specifics of the republics must also be taken into account. "There are indeed very deep-rooted traditions here that also, to an extent, pertain to the distribution of portfolios by nationality," he explained.
Khloponin also touched upon the issue of human rights in the region. Recently he took part in a session of the Civil Society Institutions and Human Rights Council under the President of the Russian Federation.
The head of the region believes that "Those organizations that keep the state informed on what is going on in the human rights area in the North Caucasus Federal District."
"I would be happy to see those organizations working on the same side with the authorities instead of taking some narrow position. Human rights must be protected, yet still, the peculiarities of the North Caucasus must be taken into account," Khloponin noted.
Finally, he drew attention to some problems for the younger generation.
"Authorities should help young people create platforms where they should show their vigor and creativity. There is a shortage of grants for the youth, grants for projects they are ready to offer," Khloponin said.
According to the official, his job is to create "transparent conditions for all those who are ready for innovative activities."
"If we say there are interesting projects, we must create technology parks where young people could implement them. However, this requires making the rules of the game transparent so that every young man or girl could propose their ideas and be sure that they will be heard," he said.
Unfortunately, he said, conditions for the youth to put their ideas into action are "insufficient so far". And this is "what we are going to work on now," Khloponin stated.
The new Russian constitutional unit – the North Caucasian district – was created in January of this year to more efficiently address social and economic issues, and to put an end to constant militant attacks and corruption. It united the country's most troublesome regions – Chechnya, Dagestan, Ingushetia, Kabardino-Balkaria, Karachayevo-Cherkessia, North Ossetia-Alania, Chechnya and the Stavropol region.
Despite efforts by the authorities, the situation in the area is far from stable. Wednesday brought bad news again as a bomb blast in the city of Stavropol claimed seven and injured approximately 40 people.
You can share this story on social media: