Access denied: Air Berlin refuses to board disabled group
Published time: 8 Oct, 2012 15:57
Edited time: 8 Oct, 2012 23:55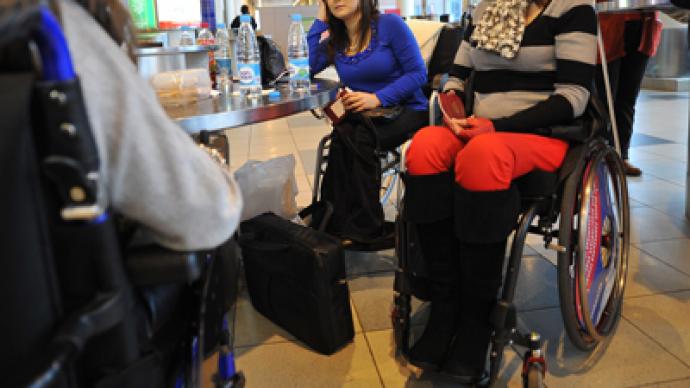 A group of disabled passengers traveling from Moscow to Dusseldorf were not allowed to board their flight by an Air Berlin pilot, despite having booked tickets and receiving confirmation from the airline a month in advance.
The passengers were part of a delegation traveling to Germany to attend a seminar – ironically, to learn about Germany's experience in creating a society accessible to disabled people.
Six delegation members who are wheelchair users, plus another five who were assisting them, were unable to board the flight after the Air Berlin pilot claimed the plane was not equipped to carry that many people in wheelchairs.
MP Vladimir Krupennikov, the delegation leader and a wheelchair user himself, said the airline refused to let them board at the very last minute.
"At the very last moment, after we had passed passport control and customs, and we were waiting at the gate, the pilot in command said he could not take so many wheelchair users on board out of safety considerations and suggested they should be flown out over two days, with two individuals in wheelchairs per flight," said the MP.
Krupennikov also told reporters the group is planning to sue the German carrier.
According to the delegation, the captain showed them a safety guide which stated that only two wheelchair users were allowed on board per flight. However, that was the first time these alleged regulations were mentioned.
Krupennikov said the group had contacted the airline well in advance to make sure they could all fly out together, and to advise the airline that six of the 34 delegates were wheelchair-bound.
"They told us it wouldn't be a problem, and we have papers to prove it," Krupennikov said.
After the incident, the group has transferred to another Moscow airport and purchased seats for the entire delegation on an Aeroflot flight.
Air Berlin responded that they acted according to the standing regulations of their company and blamed the group of failing to provide the right information. Only two wheelchair bound passengers are allowed on board at the same time, but they should be registered before the flight.

"The two passengers were registered as passengers with reduced mobility. Their flight was approved," Air Berlin said. "Four passengers registered as passengers which would need wheelchairs to the plane. And their flight was also approved. But at the gates it turned out that all six were passengers with reduced mobility. That is why the pilot took a decision, based on our security rules that only two of them can fly".

­
RIA Novosti / Ramil Sitdikov
RIA Novosti / Ramil Sitdikov
RIA Novosti / Ramil Sitdikov