Autistic children denied Oceanarium visit – as they 'disappoint' the visitors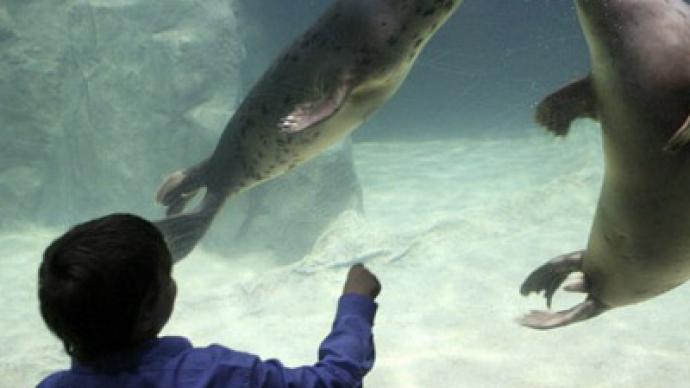 The Moscow Oceanarium, which opened its doors in autumn, seems not to be welcoming everyone. A group of children diagnosed with autism has been denied access.
"Refused. Visitors do not like to see the disabled, it disappoints them. It is not acceptable," read a note sent to teachers of a school that had tried to organize an excursion for autistic children. Further, the Moscow Oceanarium administrator suggested visiting the oceanarium on a cleanup day – so that "nobody sees them."The school had contacted the Oceanarium to help organize a tour for several groups of children. But when the Oceanarium's staff learned the children were autistic, "the lady answering the call was clearly pushed back," and "made quite an awkward attempt to clarify what autism meant," wrote a mother of one of the kids on her Facebook page.
Though the teacher explained that autism is a lifelong disability that affects how a person communicates and relates to others, and that physically such children are normal, the teacher was still advised that the group should visit on a day when the Oceanarium is closed to the public."If there had been a group of people using wheelchairs, then we could have explained the Oceanarium's reluctance to let them in on a weekend … but a visit on a cleanup day is beyond understanding," noted a Russian blogger. The Oceanarium's press service has said it was unaware of the incident, according to Svetlana Shtarkova, the co-chair of the Council of the All-Russian Society for Children with Disabilities. It said that people with disabilities visiting the Oceanarium are normally offered visits on days with less traffic "for their own convenience, and if this incident really has taken place, the staff member will be punished."They also added that the aquarium is testing a special program for people with disabilities, currently running on cleanup days. The press service explained that these days were selected in order to limit disabled people "from long lines and crowds." The Oceanarium's website also offers discounts for people with disabilities if they apply on weekdays.Human rights activists are investigating the incident. "If this is true, then it is a direct violation of the rights of disabled people," said Lev Ponomarev, the leader of the For Human Rights movement, in an interview with Interfax.Meanwhile, the story caused outrage on social networks, gathering hundreds of reposts on Facebook in particular.
You can share this story on social media: