Femen activists stage first Arab world stunt (PHOTOS)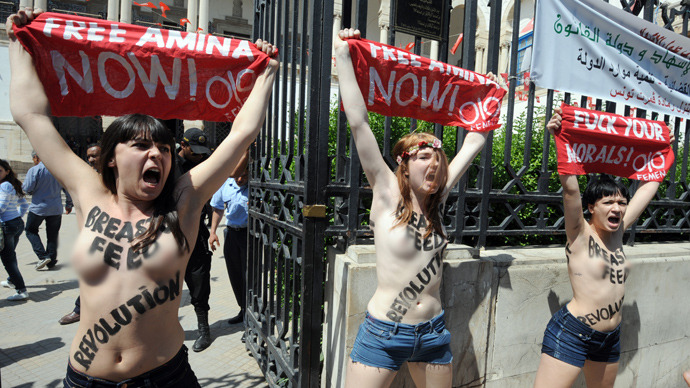 Three young women from the women's rights group Femen were detained as they staged a topless protest in the Tunisian capital of Tunis – their first public stunt in the Arab world.
The spectacle culminated in scuffles outside the capital's main courthouse, as the group's one German and two French female members stood by the railings shouting the slogan "Free Amina," in reference to the young Tunisian woman who was earlier arrested and is hours away from being tried for protesting the policies of hardline Islamists.

Wearing only skimpy denim shorts, their bodies bearing the inscriptions "Brest Feed Revolution" and "Femen Extremist", the ladies were quickly snatched up by authorities and taken inside the courthouse, as journalists stood by, observing the scene.  

Tunisia, being a socially conservative country, saw a number of witnesses, including lawyers, try to cover up the young women and attack some of the journalists, claiming they were giving the activists a platform for their antics. Once inside the building, the lawyers followed the police and the women, singing the country's national anthem and shouting "Get out!" – the words often heard during Tunisia's own Arab Spring of January 2011.

Six of the journalists (among them one from Reuters and another from France's Canal+) were also detained, but let go after giving statements about the event.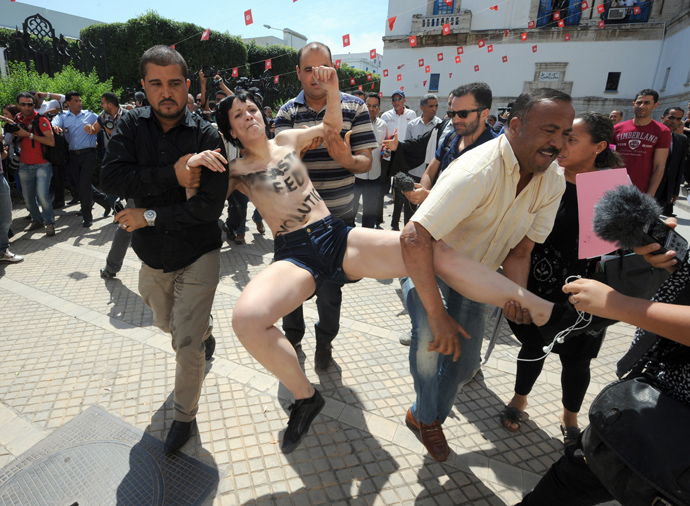 "An inquiry has been opened and they will be placed under arrest and brought to trial," said the justice ministry's spokesman to AFP, also noting that indecency in Tunisia is punishable by six months in prison, adding that the female activists will not escape trial.

Martine Gambard-Trebucien, the French consul in Tunisia, has testified to the women's condition, telling the reporters they were "fine."

"It is the first action that we have taken in the Arab world... I prepared this international team in Paris and they were sent yesterday to Tunis," said Femen leader Inna Shevchenko to AFP in a phone conversation. "These countries and these totalitarian regimes prey on women. We don't take any notice of this kind," she concluded.

Despite this being the first show of such action in the Arab world, some of the group's most recent run-ins with police also included the Turkish capital, Istanbul.

Russian President Vladimir Putin and German Chancellor Angela Merkel also could not avoid getting an eyeful of bare-breasted protest at the Hannover Messe technology show in April of this year, whereupon the president later joyfully remarked to journalists, "We knew it was coming. You should thank the Ukrainian girls for helping you promote the fair."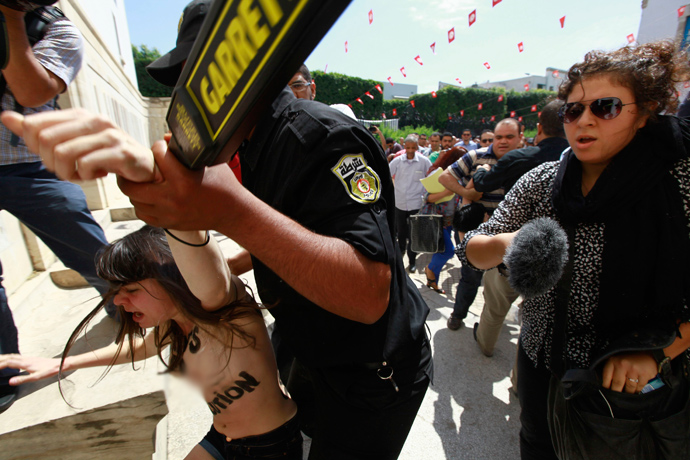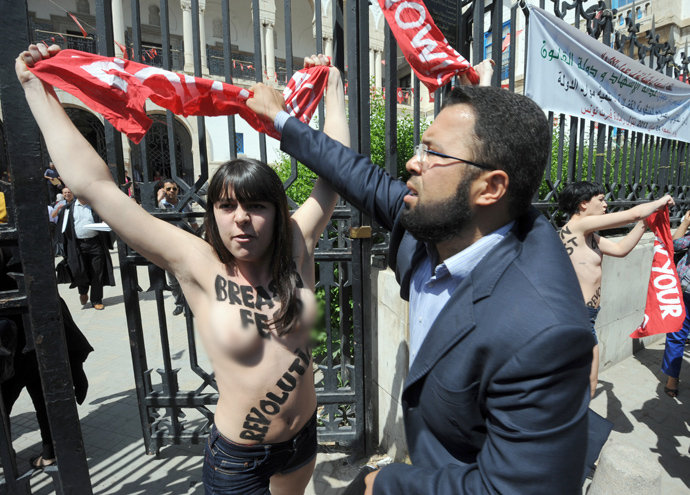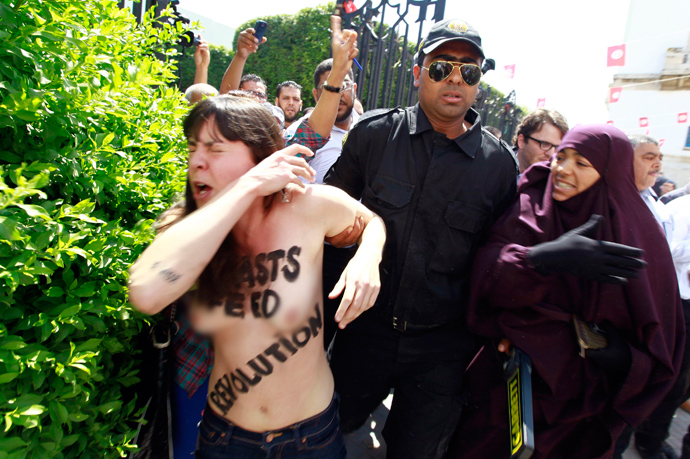 You can share this story on social media: