Swearing bare-breasted activists rush at Putin and Merkel (VIDEO, PHOTOS)
Topless activists from the Femen protest group tried to disrupt the visit of Russian President Putin and Chancellor Merkel to the Hannover Messe tech show. They had anti-Putin slogans on their semi-naked bodies and were shouting obscenities.
The two politicians, who were visiting the Volkswagen exposition at the time the activists launched their protest, noticed them, but mostly ignored the stunt. Guards detained the young women.
But speaking later at a joint media conference, Vladimir Putin admitted he liked the performance.
"We knew it was coming. You should thank the Ukrainian girls for helping you promote the fair," he said.
He added he had failed to notice whether the activists were blondes or brunettes, yet alone discern their slogans, and advised them to be properly dressed next time they want to come for a political debate.
Angela Merkel said such actions are part of what being a democracy is, but voiced doubt that a protest should be voiced in the form that Femen choose for it. She added that German authorities will investigate whether the topless action should have any legal ramification for the activists.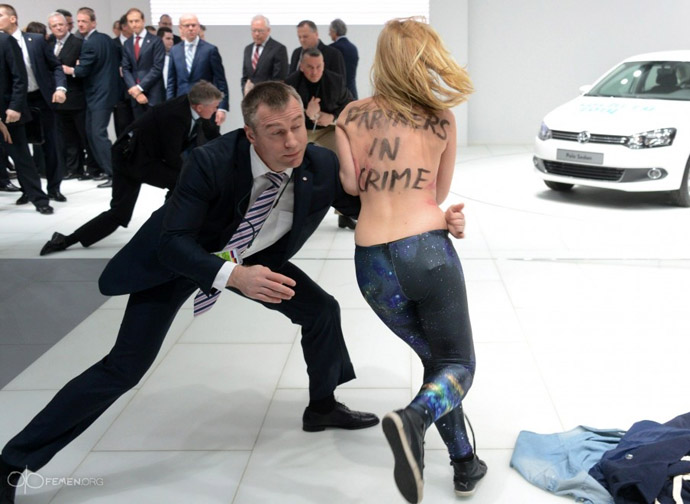 A criminal case has been launched on charges of  humiliation of government officials and representatives of foreign states. Topless activists may now face up to 5 years in prison, local media Hannoversche Allgemeine reports, if it's proven that they also slandered politicians. Otherwise, the maximum term for such a crime is three years.

Femen has targeted Putin several times previously. In December 2012 they caught his arrival at a Brussels airport. And in March 2012 they barely missed his arrival at a polling stating during the Russian presidential election and proceeded to attempt stealing the box containing his ballot.
The last semi-naked protest staged by Femen group was against Tunisian authorities over what they call an Islamist attack on women's rights.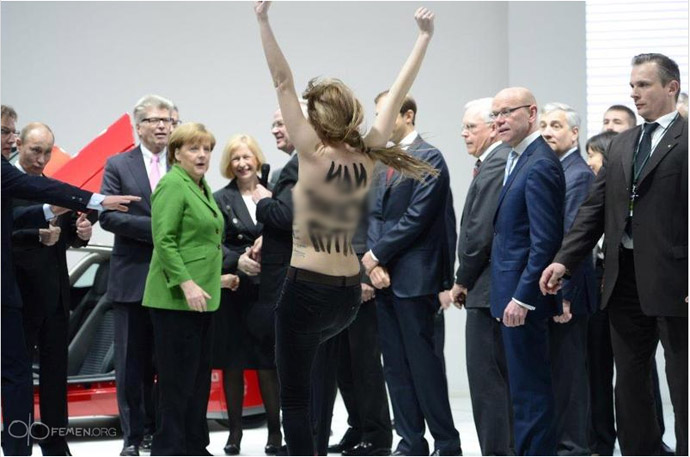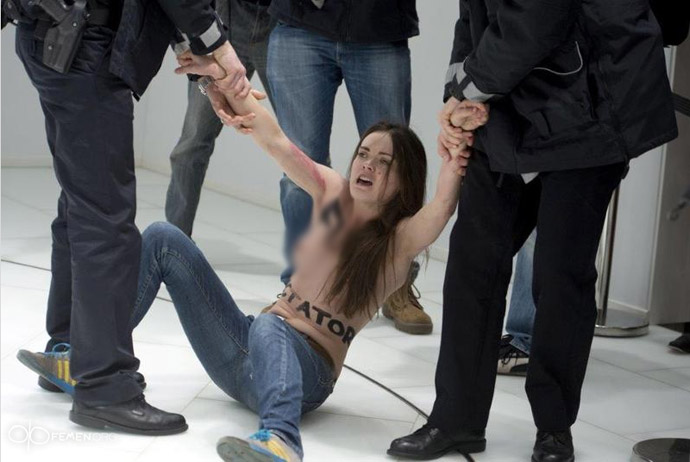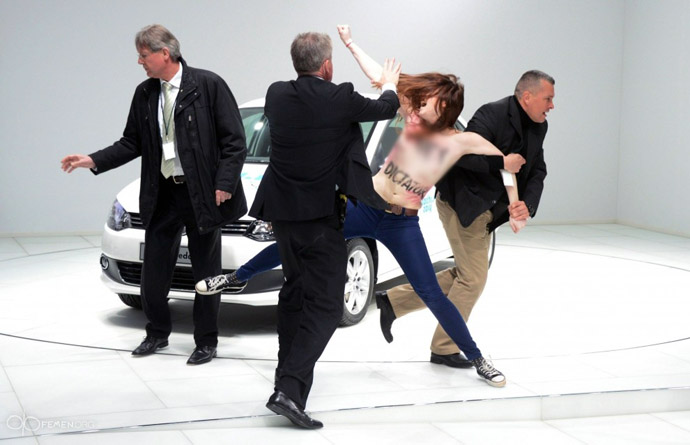 You can share this story on social media: