Female Iranian communists organize topless protest against hijabs in Swedish capital (PHOTOS)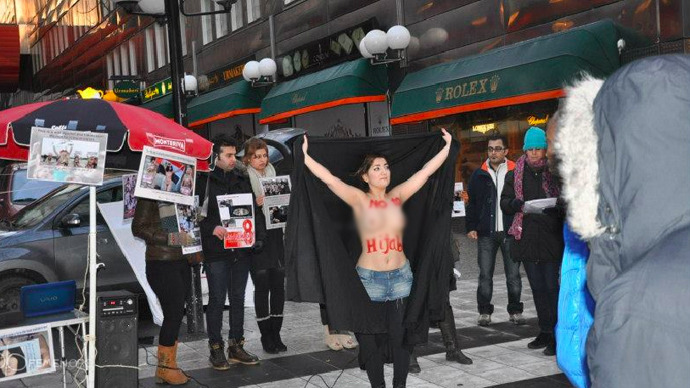 The Iranian female activists have followed the footsteps of the scandalous Ukrainian FEMEN movement, flashing their breasts in protest against the hijab headscarf, women wear in the Islamic world.
The action performed by members of the Iranian Communist Party and the Organization Against Violence on Women in Iran took place in the center of the Swedish capital, Stockholm on Sunday, and was dedicated to International Women's Day, which is celebrated on March 8.

The women painted their bodies with slogans such as "My nudity is my protest" and "No to hijab" and displayed pictures from anti-Islamic demonstrations by FEMEN.
The topless photos from Stockholm first appeared on FEMEN's official website, with members of the "sextremist" movement expressing their confidence that "in the historical battle 'woman v. Islam' women will win!"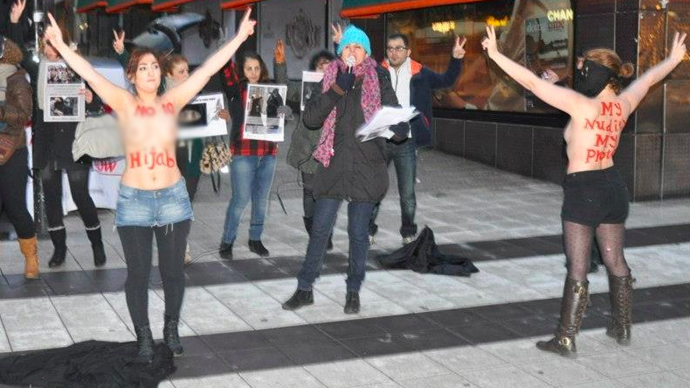 The Ukrainian topless protesters have recently teamed up with Egyptian activist, Alia Al Mahdi, to attract public attention to "the threat of Islamization of the Egyptian constitution and the introduction of [Mohamed] Morsi's Shariah Law", with the action being staged in front of the Egyptian embassy in the Swedish capital.
The FEMEN activists have become famous for organizing topless protests at major international public events in different countries against sex tourism, religious institutions, international marriage agencies, sexism and other social and international issues. 
The movement quickly spread across the Ukrainian border as the group recently opened their new headquarter in Paris, promising offices in New York, Montreal and Sao Paulo as well.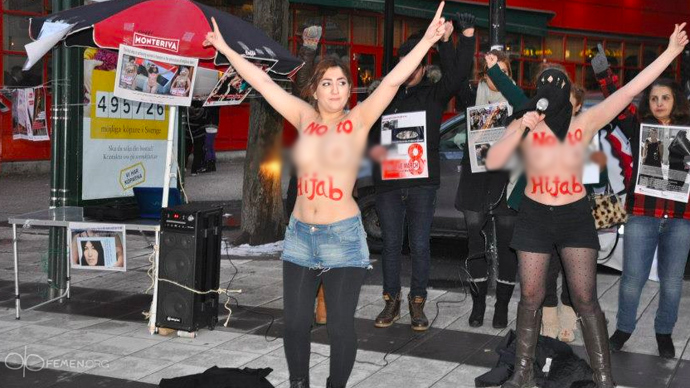 You can share this story on social media: