Ukraine president urges tough punishment for cross-cutting feminists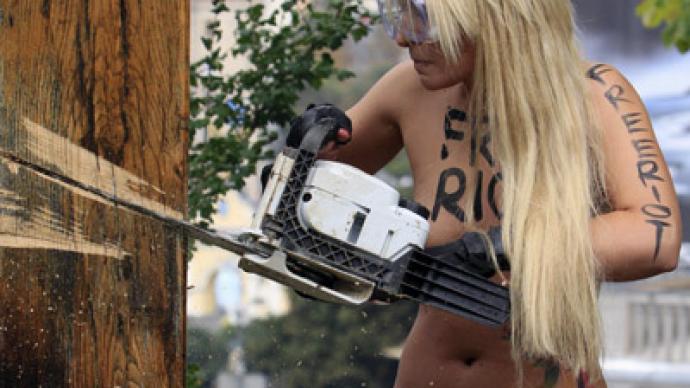 Viktor Yanukovich has blasted as barbarism the recent act in which a topless woman cut a memorial cross with a chainsaw in Kiev, but also opposed the Church's interfere in politics.
"When a cross was cut in the very center of Kiev, the religious feelings of millions of people were insulted," Yanukovich said at the meeting with heads of churches and religious organizations.He demanded that law enforcers make those responsible for the protest act – the famous Ukrainian feminist movement Femen- answer for their "barbarism".The president also noted that the community in general trusted the Church, but still it was impossible to be satisfied with society's moral state. He personally guaranteed the unprejudiced attitude to all churches on the part of the authorities.But at the same time Yanukovich personally guaranteed the unprejudiced attitude to all churches from the side of the authorities. The Ukrainian president's reaction might be seen as a bit delayed as the incident he was talking about took place in mid-August. Several Femen activists, acting topless as they usually do, cut down a memorial cross near the International Art and Culture Center. According to Femen, this was done as a protest against the sentence to members of the Russian feminist group Pussy Riot.Shortly before the Kiev cross cutting, three Pussy Riot members were sentenced to two years each in prison for aggravated hooliganism in the form of a "punk prayer" in Moscow's major cathedral. Ukrainian police started a criminal case into the cross cutting incident, charging the activist who performed it with hooliganism. However, by early September the activist had fled Ukraine and settled in France, after which the process stalled. However, the Kiev event has been copied several times in Russia. This autumn, reports of cut-down crosses arrived from all over the country, from northwest Arkhangelsk to Far Eastern Altai. One previously unheard-of political movement even once claimed responsibility for one incident. However, the activists said this was a reply not to Pussy Riot process, but to a suggestion to carry Lenin's body out of his mausoleum on Red Square.
You can share this story on social media: