Breast-beating: Femen 'assaulted' by anti-gay marriage demonstrators in Paris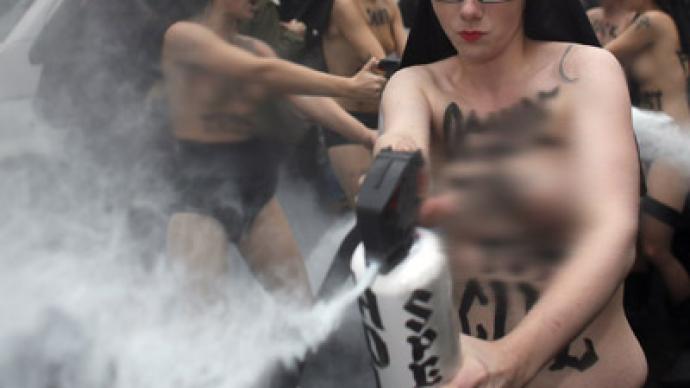 Ukrainian topless activists Femen, famous for baring their breasts on any occasion to draw attention to a cause, clashed with French demonstrators protesting gay marriage and adoption in Paris.
On Sunday, some 100,000 people took to the streets of Paris to speak against legislation allowing gay marriage.
The demonstration was mainly organized by Catholic groups, which fear that such legislation will destroy the family.
Femen activists appeared amidst the demonstrators wearing costumes of sexy nuns. The activists were topless as usual, with slogans written across their chests. They were spraying demonstrators with white liquid calling it "Jesus' semen."
As protesters tried to push the topless feminists away scuffles erupted. Police had to use teargas to disperse the crowd.
Police and LGBT activists had to surround the Femen women to protect them from indignant demonstrators. The topless activists were later taken to a police station.
Femen called those who "attacked" them "religious nationalists," saying that their action "In gay we trust" was "aimed at spreading progressive ideas of civil and sexual freedom into religious people's minds."Activists also claimed that two Femen protesters were injured during the skirmish, with one losing a tooth and another allegedly having her nose broken.The movement reacted with threats of revenge. "Femen promises not to forget this incident and to take revenge on the organizers in the best Christian tradition: an eye for an eye, a tooth for a tooth," they wrote on their webpage. Femen are known for staging topless protests against state and religious institutions, large corporations, international sport events and practically anything else. French President Francois Hollande repeatedly stated that he is determined to legalize gay marriage while campaigning for the presidency. Now the legislation allowing gay marriages and adoption of children by gay couples is said to be considered in January.France already allows gender-neutral civil union for gay couples to legalize their relationships.
You can share this story on social media: