'Basta!': Topless activists attack Berlusconi at polling station (VIDEO, PHOTOS)
Three topless members of the feminist movement FEMEN tried to attack Silvio Berlusconi in a polling station in Milan, where the leader of the center-right coalition was casting his vote.
The three women pulled off their clothes, remaining only in jeans, as soon as the former prime minister appeared at the polling station.

They shouted 'Basta Berlusconi' ('Enough With Berlusconi'); the same slogan was painted on their bare upper bodies.

The activists broke through a line of journalists at the polling station at the Dante Alighieri School and tried to reach Berlusconi, but they were immediately seized by bodyguards and dragged away.

The three women, Inna Shevchenko, Oksana Shachko and Elvire Duval-Sharle, were quickly detained by police. The women resisted as officers struggled to put jackets and handcuffs on them and seat them in a police car.

The 76-year-old politician's reaction to the incident was calm.

"It's an exaggeration. Those who think with their mind and intelligence can vote only in one direction and behave consequently," Berlusconi said, as cited by International Business Times. "Then, there are situations like this outside the boundaries of reason and we cannot do anything to avoid that."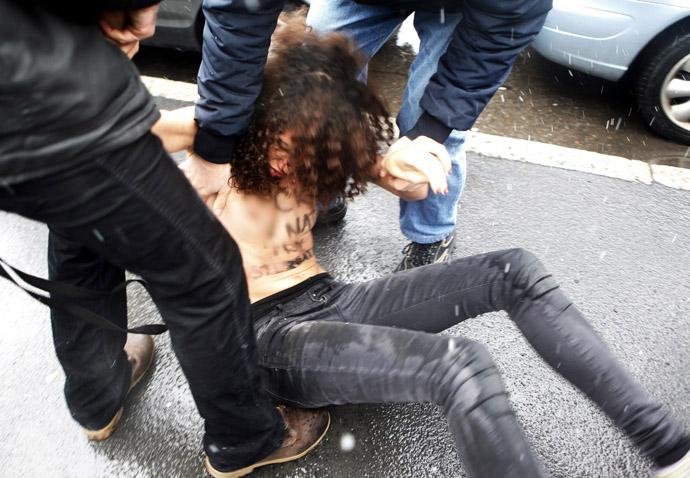 On Sunday Italy started early parliamentary elections. As a result of the two-day vote the winning party will form a new government. The former four-time Prime Minister Silvio Berlusconi is one of the candidates, despite being on trial on charges of having sex with a minor. He denies all the charges. Berlusconi's trial is postponed until after the elections with the next hearing set for March 4.

Berlusconi has previously been involved in fraud and sex scandals. He has an extensive record of criminal allegations, including mafia collusion, false accounting, tax fraud, corruption and bribery. He has been tried in Italian courts several times, though never found guilty.

On the official internet page of FEMEN Movement the activists urge to "make a 'political' killing" of Berlusconi.

'Italy, do not vote for the one who should be in prison!'

The FEMEN activists gained notoriety by conducting impromptu topless protests. The last protest was in the beginning of February 2013. FEMEN activists got naked in Notre Dame de Paris to mark the resignation of Pope Benedict XVI. The activists are reported to have attacked 'homophobic propaganda' in the Vatican.

FEMEN movement activists have conducted protests during major international public events in different countries against sex tourism, religious institutions, international marriage agencies, sexism and other social and international issues.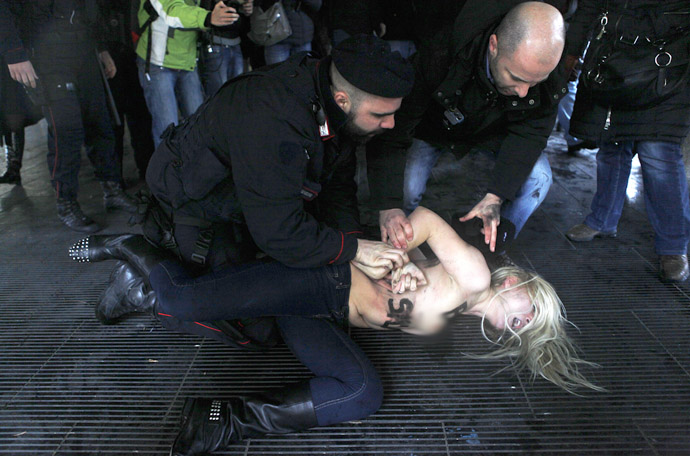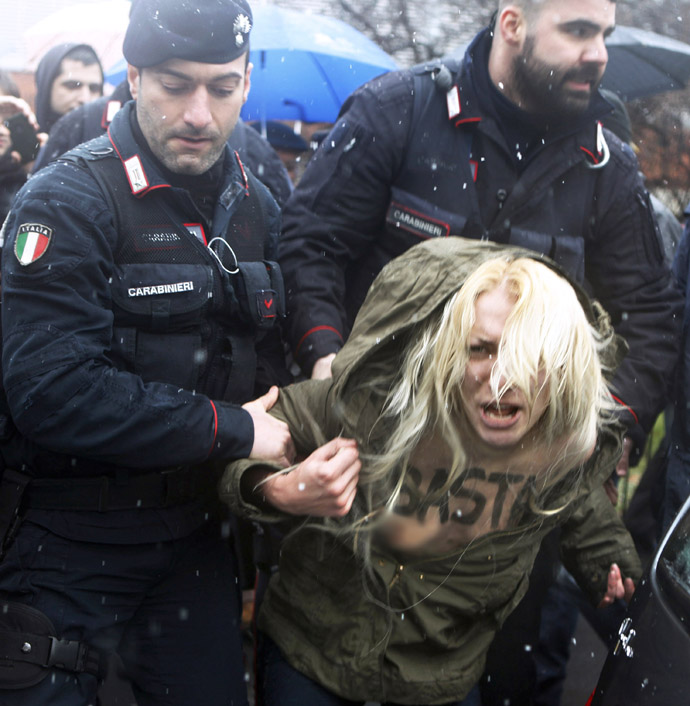 You can share this story on social media: