Three killed as protesters clash in Egypt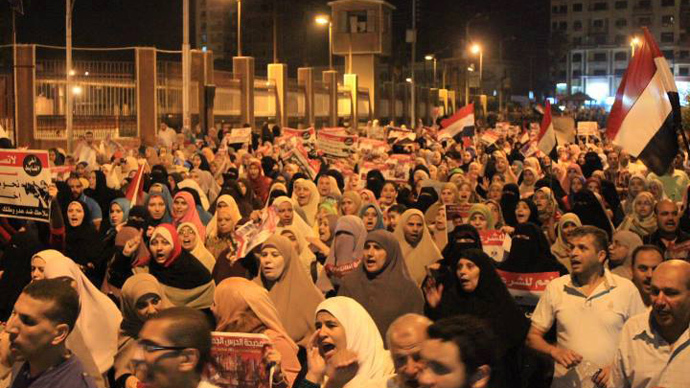 At least three people have been killed in clashes between supporters and opponents of ousted president Mohamed Morsi in Mansoura, in Egypt's Nile Delta, medical sources told AFP.

"Three people were killed and seven others wounded by birdshot and stabbing attacks during clashes between Morsi supporters and his opponents," Adel Said, a hospital official in Mansoura, told the agency. The victims, all of whom are women, have all been identified.

The death toll was also confirmed by another health official, who said that victims were shot. Ten more people have also been injured, one of whom was in critical condition.
Activists on the ground, especially from the Muslim Brotherhood bloc, place a higher number on those killed, while some tweets from Egypt suggest that as many as 200 people were wounded, including a number of minors.
Local activist Abdullah el-Nekeity told AP that clashes began after a mob attacked the pro-Morsi demonstrators with live ammunition, birdshot, knives and attack dogs. Some demonstrators fled until security forces arrived, el-Nekeity said.
In a statement, the Muslim Brotherhood blamed hired thugs for the violence.

Ministry of Health: 3 women dead in #Mansoura clashes. #Egypt

— Hana Zuhair (@Hana_Zuhair) July 19, 2013
#BreakingNews: #Egypt – 3 killed, 7 wounded in clashes between pro and anti-Mursi protesters in Mansoura: Al Arabiya

— Al Arabiya English (@AlArabiya_Eng) July 19, 2013
3 women & 1 17yr old girl murdered in #AntiCoup rally in #Mansoura. 200 wounded. Attacked w/ bladed weapons, pallet shotguns & live rounds.

— Gehad El-Haddad (@gelhaddad) July 19, 2013
In addition to Mansoura, clashes between Morsi's supporters and opponents engulfed Egypt on late Friday night. Security forces intervened with tear gas to disperse the scuffles.
Police forces in Qena, in Upper Egypt, fired tear gas to stop clashes in the city center after several rallies merged.
In the city of Ismailia, at the Suez Canal, many Muslim Brothehood supporters took to the streets calling for Morsi's reinstatement and condemning what they call a "military coup" against the democratically elected leader. They chanted slogans against military commander-in-chief and Defense Minister Abdel Fattah El-Sisi.
At the same time supporters of the new interim government also marched in the city in support of Sisi, shouting "the people and the army are one hand," while condemning Islamist parties as "deceiving the people in the name of religion." 
Other rallies were held across Damietta, the Nile Delta, Alexandria, Gharbiya, Sharqiya and Fayoum, and Beni Suef and Assiut in Upper Egypt, Ahram reports. 
In the capital Cairo, police also teargassed pro-Morsi demonstrators clashing with anti-Morsi factions as thousands of demonstrators marched towards the presidential palace.

With the Muslim Brotherhood having such deep roots in Egyptian society, the only way to untie the political deadlock is to form a coalition government, believes award-winning journalist Hugh Miles. 
No matter how experienced and qualified the people in the new Egyptian government are, they will not manage to turn the country around unless there is genuine political reconciliation between the opposing factions, explained Miles.

"The country is more divided than it's ever been, and the future is highly uncertain," Miles told RT. "They have to try and form a government that includes Islamists, secularists and liberals. But so far they have not managed to do this at all. And so what we are likely to see is swinging between these two poles in Egyptian politics going forward."

"The Muslim Brotherhood has very deep roots in Egyptian society, it has millions of supporters, it's been around for many years, and it has to have a stake in power," he added. "By using peaceful protests they can bring the country to its knees - the country is already on its knees."