Egyptian prosecutors freeze Brotherhood leaders' assets amid violence investigation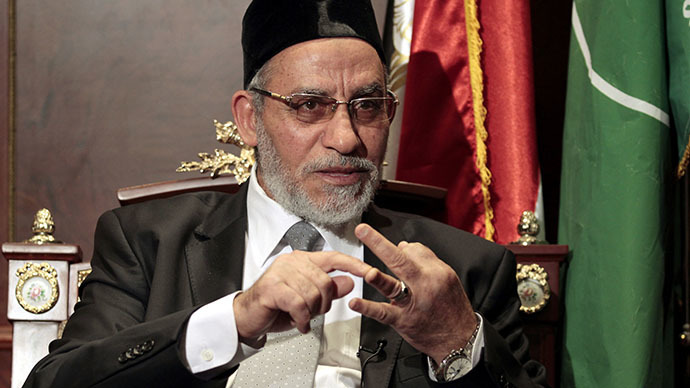 The assets of top Muslim Brotherhood members and other Islamists have been frozen by Egypt's prosecutors as they investigate the incitement of violence at protests, according to the judiciary.
The Muslim Brotherhood's Supreme Guide, Mohamed Badie, and his deputy, Kharait El-Shater, are among the 14 Islamists targeted, along with Freedom and Justice Party leader Saad El-Katatni, Vice President Essam El-Erian, Salafist former presidential candidate Hazem Salah Abu-Ismail and a number of other politicians.

The above are accused of calling for violence at Giza's Nahda Square and the Republican Guard Headquarters in early July, the headquarters of the Muslim Brotherhood in late June, and the Ittihadiya presidential palace in December of 2012.

The accused are expected to be questioned in the coming days, according to the public prosecutor's office.

Arrest warrants for the Brotherhood's top members have already been issued, while ousted president Mohamed Morsi is being investigated for spying, inciting the killings of protesters, and damaging the economy.

The prosecutors' move comes amid a wave of deadly violence that took hold of Egypt following Morsi's removal. Dozens of people from both camps have lost their lives in the two weeks since his overthrow.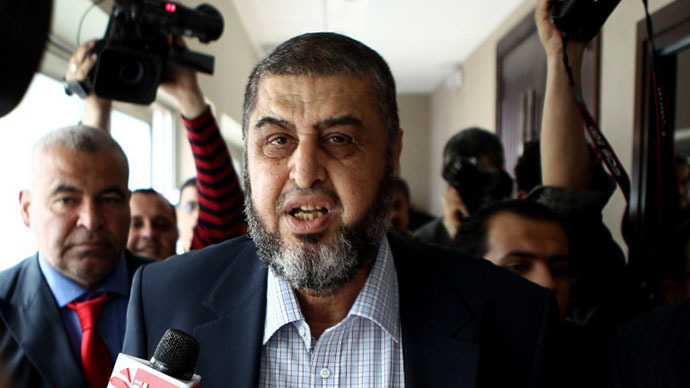 Army chief Abdel Fattah al-Sisi addressed the nation, saying that he had given Morsi the chance to hold a referendum on his rule before he was overthrown, but the offer was received with "total rejection." He went on to stress that for every political denomination, "an opportunity is available in political life" and that "no ideological movement is prevented from participating."

However, the Muslim Brotherhood believes the military's actions amounted to an undemocratic coup, and its supporters continue to promise more protests.

Vice president of the Freedom and Justice Party, Essam El-Erian, has called for more protests to be held on Monday. The call was echoed by the Brotherhood, which proposed a one-million-man march.

Morsi, the country's first freely elected leader, has been held at an undisclosed location since a military coup removed him from power on July 3. No charges have been pressed against him.

The news comes as international pressure to release Morsi increases, with the US joining Germany's call to "end to all restrictive measures" against the ousted president.

On Friday, Egypt's public prosecutor's office announced that it had begun investigating complaints against Morsi.

The announcement was an unusual step, as prosecutors typically wait until charges are filed before making any public statements.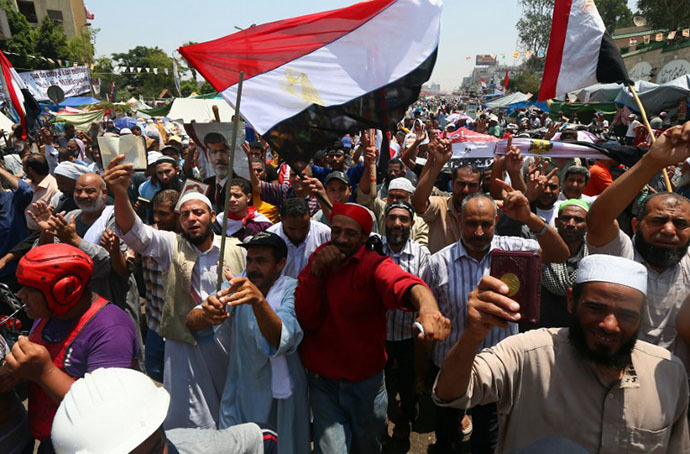 Also on Friday, tens of thousands of people turned out for what the Muslim Brotherhood called a "day of marching on," which ended peacefully before dawn on Saturday.

Egypt is to be led by a transitional government to pave the way for new parliamentary and presidential elections early next year. Hazem al-Beblawi, the country's interim Prime Minister, is currently filling top posts in the transitional cabinet.

Egyptian liberal leader Mohamed ElBaradei has been sworn in as Egypt's interim vice president for foreign relations, according to a presidential statement.  ElBaradei is a former head of the UN nuclear watchdog, a Nobel peace laureate, and the former head of the National Salvation Front leftist-liberal coalition. His initial nomination was rejected by Al-Nur, an ultra-conservative Salafist party.

Ahmed Galal, an economist educated at Boston University, will take up the position of finance minister, while Egypt's former ambassador to the US, Nabil Fahmy, is set to become foreign minister.