Dotcom's 'ultimate file hosting solution' to be launched on Megaupload raid anniversary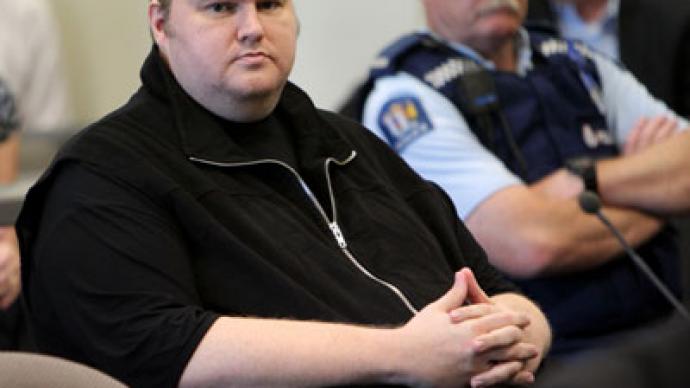 Kim Dotcom has announced plans to launch "Mega," a new and improved raid-proof service that is expected to go live on the one-year anniversary of Megaupload's shutdown by American authorities.
The planned date for Mega's launch is January 19, 2013, exactly one year after MegaUpload was shut down by the United States Department of Justice. At the zenith of its popularity, Megaupload regularly attracted 50 million users a day and even enjoyed support from many major figures in the American music industry. Dotcom, the company's founder, who currently resides in New Zealand and is fighting extradition to the US on copyright violation charges, said that Mega will be launched at a press conference with a button that looks like the doomsday device which the FBI alleged was in place to take MegaUpload down in the event of a raid. "ANNOUNCEMENT: The new Mega will launch exactly 1 year after the raid with a #MansionPressConference & #DoomsdayLaunchButton," his tweet reads.Mega will be encrypted with a key that Mega itself will never have access to, giving users and third-party application developers control of access to files on the service."If servers are lost, if the government comes into a data center and rapes it, if someone hacks the server or steals it, it would give him nothing," Dotcom explains. "Whatever is uploaded to the site, it is going to be remain closed and private without the key," Dotcom said in a recent interview with Wired. Dotcom hopes for the new service to extend beyond the realm of file-sharing, with email, video applications, and a host of other functions in the works. He says investors are already lined up to take part in the venture, which Dotcom characterized as a "massive global network," TorrentFreak reported. Earlier, Dotcom announced that over 90 per cent of the coding is complete, while a team of lawyers, partners and investors was ready to launch the project. He wrote that it took seven years of experience on the issue to tailor "the ultimate file hosting solution," comparing the new Mega to a "poetry of logic."The domain that will ultimately host Mega is yet to be announced, but it is unlikely to be a .com address, considering Dotcom's troubles with the US government.
You can share this story on social media: