Wrecked Costa Concordia cruise ship set upright (PHOTOS, VIDEO)
Published time: 16 Sep, 2013 22:50
Edited time: 17 Sep, 2013 11:16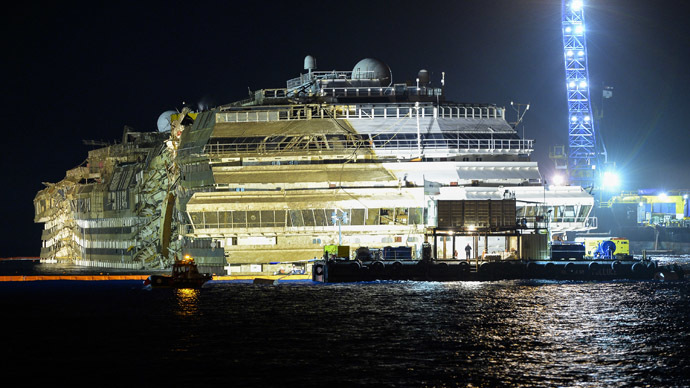 A multinational crew has completed the righting of the wrecked Italian cruise ship Costa Concordia early on Tuesday following a 19-hour long operation that cost over $800 million.
The 950-foot-long, 114,000-ton ship -- lying on its side off a rock shelf since it smashed into the Giglio mountainside in January 2012 -- was pulled upright by a system of 56 pulleys attached to underwater platforms.
"The ship has been settled on to its platforms," Franco Gabrielli, the head of Italy's Civil Protection Authority said. 

Towers with hydraulic mechanisms controlling 205-kg (450 lb) cables under the ship and attached to its side slowly rotated the vessel, placing it on six platforms drilled into the granite rock bed. 

As the ship rotated, cable pressure was released, leaving giant tanks on the ship's exposed side to fill with water, helping the ship continue tipping upright by force of gravity.

It took 6,000 tons of pressure for the pulleys to dislodge the ship's flank from rock, which pierced 18 feet into the brown-stained white hull.

"The ship is reacting very well because it's rotating in a uniform fashion, which is what we expected but it's a pleasure to see it confirmed," Franco Porcellacchia, leader of Costa Cruise's technical team, told Reuters early in the process.

A team of 500 salvage engineers have worked on the ship and rock bed for the past year, stabilizing the wrecked area in preparaton for Monday's lift by a process known as parbuckling.

"We have done parbuckling before but never on a location like this," Nick Sloane, the engineer coordinating the recovery effort for contractor Titan Salvage, told Reuters.

"She is on the side of a mountain on the seabed, balanced on two reefs and she is a really large ship - she's three football fields long, a hundred thousand tonnes plus ... So it's never been done on this scale," he said.

The Concordia capsized on January 13, 2012, as the ship's Captain Francesco Schettino hit the rock bed attempting a "sail past" close to the island.

The vessel was carrying more than 4,000 people when it crashed, killing 32. Two bodies have yet to be recovered from the wreck.

Schettino is currently standing trial on charges of manslaughter and abandoning his ship.

Engineers told the Los Angeles Times the ship needed to be at 65 degrees to sit upright on the underwater platforms.  

The Costa Concordia is the largest ship ever to be hoisted upright after capsizing.

Over 1mn gallons of water was removed from the food storage area and laundry areas of the ship ahead of the salvage operation.

Oil booms surround the Concordia to intercept waste water and oil trapped in the ship, but no observable environmental damage has been reported thus far.