'Everyone could have been saved' – Concordia tragedy survivors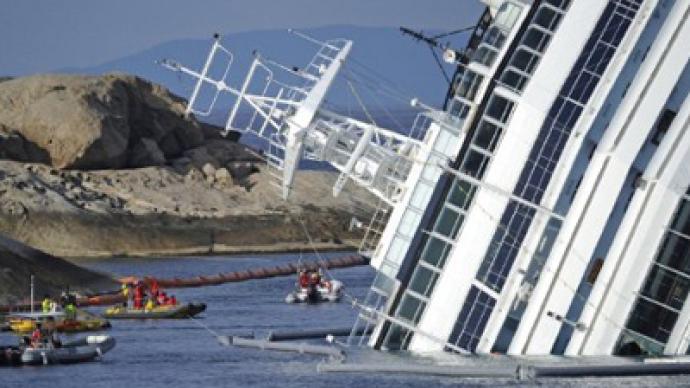 They still can't sleep at night since the Costa Concordia put them through the ordeal of their lives. A Russian couple that made it ashore safe and sound believe every passenger could still be alive had the rescue operation been better organized.
­They are just two of the passengers from over 4,000 people onboard the massive cruise ship Costa Concordia. Denis Golovkin and Olga Gridneva still have trouble sleeping at night.
"I don't understand how they couldn't have rescued everyone considering the liner sank no further than half a kilometer from land, in warm weather," says Olga.
Sixteen bodies have so far been recovered and 16 people are still missing after the 290-meter long cruise liner struck a rock near the Tuscan island of Giglio.
Olga and Denis got onboard only two and a half hours prior to the disaster at the port of Civitavecchia. For them it was just the beginning of their cruise, as the liner was picking up passengers along the way.
The couple had just had dinner – incidentally, to the tune of the Titanic theme song – and were back in their cabin when the ship hit the reef.
"Our glasses, laptops and cellphones flew off the table," Olga recalls. "The boat went too close to the shoreline where it wasn't supposed to be. And we certainly felt it, like a really strong crash or shaking…"
They grabbed their life vests and Denis suggested taking warm clothes, considering the temperature outside was 12 degrees Celsius.
"I thought that we might actually have to jump overboard," Olga says, "nobody was supervising us, we spent an hour and a half on the deck, and the speakers were saying, "Don't worry, everything is fine…" It was very scary. It was a large ship, the height of a multi-storey building. When a sensible individual starts thinking that they might have to jump overboard they assess their abilities and realize that they don't feel like jumping from this height at all."
There were hardly any crew members in sight helping people. This Thursday, Italy's top-ranking Coast Guard official, Marco Brusco, said that the Concordia's Captain Francesco Schettino lost "a precious hour," which made evacuating the ship even more difficult. Had the order been given earlier, "the lifeboats could have been launched calmly, people could have been reassured," Brusco said in Senate testimony.
Instead, the evacuation was chaotic. No one knew where to run, what to do and no instructions were given out so a lot of people couldn't leave the ship for quite a while. Denis and Olga were lucky to get off in one of the first lifeboats. Olga says that passengers were totally misinformed about what was going on and that no one had a clear picture of the real state of affairs: "Nobody told us to go out on deck. We did that on our own, following our instincts and based on what we could see and understand." 
Hours later, safe but still tense, people recounted their stories to each other. Many said there wasn't enough room in the boats, with the situation only worsened by the fact that it was difficult to get the boats down to the water from the upper decks, especially on the portside where it proved simply impossible. Denis, an experienced seafarer, says the crew wasn't up to the task: "I saw a crew member climb into the boat. He could hardly start the engine. On top of it all, before mooring at the pier, we had been circling and circling for a long time. In other words, the boat was driven not by a specialist."
There were also reports that rich Russians were buying seats in the lifeboats – but Olga dismissed them with conviction in her voice: "One should bear in mind that this cruise was mostly for economy-class passengers. There were no particularly rich Russians on this ship."
Twice the size of the Titanic and three times the length of a football pitch, the cruise ship Costa Concordia would have been much worse off had the tragedy happened further away from the shore and in colder waters. So far, the tragedy on the Concordia has claimed 16 lives. However as divers continue to comb the submerged parts of the ship, neither Denis nor Olga can comprehend how there could have been any casualties at all: "In the heart of Europe. There must have been enough lifeboats for everyone had the rescue operation been at least somewhat organized, or had there been some instructions. If so, I believe we wouldn't have lost anyone."