Five more bodies found on Costa Concordia wreck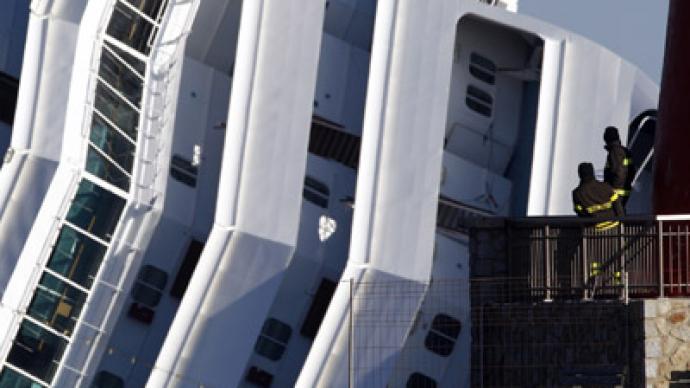 The latest victims are four men and a woman, all in their 50's and 60's. They were found together at the front of the sunken cruise ship, below the waterline. This latest recovery brings the official death toll to 11.
Teams have been searching the ship for passengers and crew missing since the Costa Concordia struck rocks on Friday evening and capsized. 29 people are still considered missing, and underwater demolition experts have had to blow four holes in the hull of the ship, to ease work for the divers. Hopes of finding survivors after this much time are slim, and there is an added threat of a potential oil leak. Earlier, an audio recording emerged, where the Concordia's captain Francesco Schettino was heard resisting Coast Guard orders that he return to his ship immediately. Schettino, who insisted he stayed with his vessel as it went down, actually fled the boat before the passengers got off – and was detained by prosecutors on charges of manslaughter, causing a shipwreck and abandoning the ship before evacuation procedures were completed. The court has placed him under house arrest until the trial. Captain Schettino made an unauthorized deviation from the cruise ship's original course, after which The Costa Concordia crashed into a reef off the Tuscan island of Giglio with 4,200 passengers onboard. Most of the people, including 3,200 passengers, were immediately evacuated to safety, while Coast Guard officers struggled to rescue 200 others stuck on the ship, using helicopters with spotlights to locate stranded passengers.
You can share this story on social media: