Bahraini court refuses to free human rights activist Nabeel Rajab
Published time: 8 Oct, 2012 17:33
Edited time: 8 Oct, 2012 21:33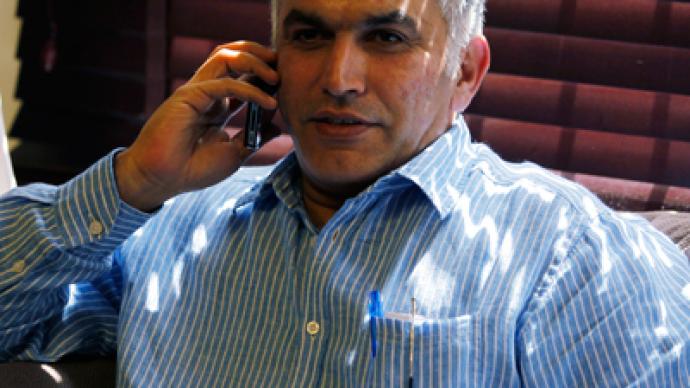 A Bahraini court has rejected a request from Nabeel Rajab's defense team to suspend his sentence and release him from jail. The Human rights activist is serving three years term for "participation in illegal demonstrations."
­The request was made by Rajab's lawyer, Mohammed al-Jishi.

Nabeel Rajab is expected to appear before the Bahraini Appeals Court on October 16.

Meanwhile, Rajab went on "dry" hunger strike on October, 6, after he was allowed out of jail for three days to bury his mother but then was suddenly barred in the first day from attending a condolence gathering.

Bahraini authorities claimed that Rajab was not allowed to stay out of prison longer because he violated the terms of his release and "delivered a speech inciting mourners to stage illegal protests". However Rajab argued that his speech was a "peaceful expression of opinion."

Rajab has been in police custody since July 9, and on August 16 a lower Bahraini court sentenced him to three years for "involvement in illegal practices, inciting gatherings and calling for unauthorized marches through social networking sites."

The court has recently satisfied the lawyers' request to merge Rajab's three cases related to his participation in rallies into one single appeal.

The three-year sentence followed a three-month prison term, handed down to him on Jul9th, for posting anti-government messages on Twitter.

In August, Rajab was cleared of defamation, winning his legal battle against the three-month sentence for allegedly r criticizing the country's Prime Minister on Twitter, where Rajab has over 170,000 followers.

Rajab is a fierce critic of the Bahraini authorities and a prominent international human rights activist. He is a member of the Advisory Committee for the Middle East Division of Human Rights Watch.

He is also one of Bahrain's best-known bloggers. A position that hasn't deminished, despite his prison term.

Bahrain has been repeatedly criticized for violence and repression towards opposition activists.

Thousands have been arrested and put on military trial since the uprisings began a year ago. The country's Shiite opposition is pushing for a transition to democracy and greater representation in the country's Sunni government.

Despite Washington's calls for Bahrain to negotiate with the opposition, clashes continue to erupt on a daily basis in the turmoil-afflicted nation.

Amnesty International says a total of 60 people have been killed in Bahrain since the violence began on February 14, 2011. The Bahraini interior ministry says that more than 700 people, including a number of police officers, have been injured in protests.