War-weary Afghanistan chooses new president as uncertainty looms
Afghans head to the polls on Saturday to replace outgoing President Hamid Karzai. Looming over the vote, though, are threats of Taliban violence, a poor economy dependent on outside aid, and the impending exit of many foreign security forces.
After 13 years of rule by Karzai, eight candidates are vying for the presidency. Three of them – former foreign ministers Abdullah Abdullah and Zalmay Rassoul, and former finance minister Ashraf Ghani – are considered the favorites.
Voters on Saturday will consider just where their country stands after well over a decade of widespread bloodshed and foreign occupation. Since the US-led invasion to oust the Taliban in 2001, at least 16,000 civilians, almost 3,500 foreign troops, and thousands of Afghan soldiers have been killed.
According to a UN report, at least 45 civilians were killed and 14 injured from US drone strikes in 2013 – triple the amount that occurred in 2012. US figures show the US launched over 500 drone strikes in Afghanistan last year.
A Pentagon-backed independent study found that the Taliban-led insurgency in Afghanistan will likely flourish after the bulk of foreign forces depart the country in late 2014.
"We conclude that the security environment in Afghanistan will become more challenging after the drawdown of most international forces in 2014, and that the Taliban insurgency will become a greater threat to Afghanistan's stability in the 2015 to 2018 timeframe than it is now," according to the report, which was conducted by a panel of experts, including four retired generals and several former defense and national security officials.
Authorities shut down SMS services in #Kabul to prevent militants from using messages for attacks. A bit frustrating for the rest of us

— Lucy Kafanov (@LucyKafanov) April 5, 2014
Adding fuel to the fire, former US Defense Secretary Donald Rumsfeld – whom many blame for the dismal execution of US combat strategy in Iraq and Afghanistan, not to mention the suspect motivation that kept the US mired in two elongated post-9/11 wars – recently trashed the Obama administration for failing to attain a security forces agreement with Hamid Karzai.
"A trained ape could get a status of forces agreement," Rumsfeld said. "It does not take a genius. And we have so mismanaged that relationship."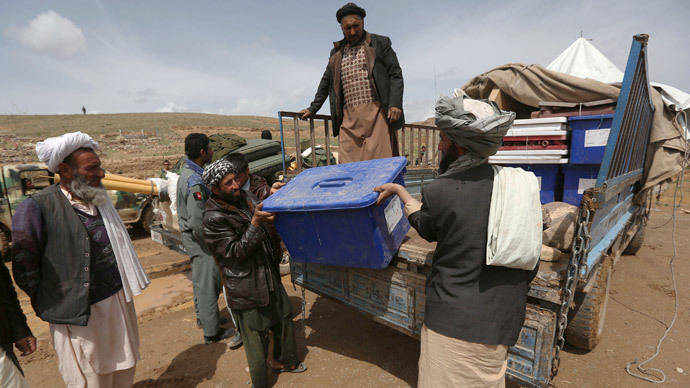 Amid the consistent violence, the country deals with rampant unemployment. Those with jobs earn, on average, an estimated US$410 annually.
The US and other foreign sources have sent $100 billion to improve conditions in the poverty-stricken country, with projects in healthcare, infrastructure, and a number of other sectors. However, the latest auditing reports have said a lot of this cash is being wasted, or swallowed by corruption.
RT's Lucy Kafanov, reporting from Afghanistan ahead of the vote, says many in Afghanistan are nervous for the future, as they wonder if the rapid change in the country over the last decade, coupled with the uncertainty of the near future, means a sure countdown to collapse.
"Since the overthrow of the Taliban, billions in foreign dollars came rushing into the country," Kafanov reported. "That financial support has led to incredible growth. In 2012, the Afghan economy expanded an average rate of more than nine percent, one of the fastest in the world. But much of the economy has been built around the war, which, for foreign troops, will soon be over. And, of course, that's taken a toll on businesses here. Some have already been forced to shut down."
Kafanov added that the shortage of investors for Afghanistan is only one aspect to the country's financial concerns.
"A weak economy helps boost the insurgency, tax revenue is tiny, the government can barely afford to pay for itself or its forces, and there's hardly any manufacturing base. The biggest export is still opium. More than a decade of easy money has made Afghanistan almost entirely dependent on foreign aid. The fear is that when the flow of money stops, a severe recession will almost certainly follow."
Afghanistan's opium cultivation rose 36 percent in 2013, a record high, according to the latest Afghanistan Opium Survey conducted by the Ministry of Counter Narcotics and the United Nations Office on Drugs and Crime (UNODC). The country's opium product is worth about $950 million, the report found, which made up four percent of national GDP in 2013.
Opium poppy cultivation in Afghanistan rose 36 per cent in 2013, a record high, according to the 2013 Afghanistan Opium Survey released today in Kabul by the Ministry of Counter Narcotics and UNODC. Meanwhile, opium production amounted to 5,500 tons – up by almost half since 2012.
In addition, access to decent healthcare is an ongoing calamity, and drug abuse is on the rise. Malnutrition remains one of the deadliest killers of young children, while the number of Afghans who are in dire need of life-saving care stands at five million.
And, as if this backdrop is not daunting enough, Karzai's successor will immediately face pressure to address a pact with the US over the level of American military forces – up to 10,000 US troops – that will remain in the nation after the bulk of foreign troops exit by the end of 2014.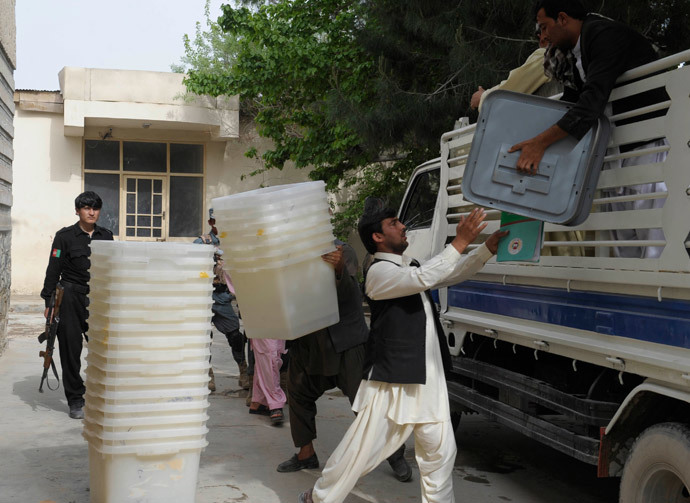 A country on alert
Meanwhile, in the days running up to Saturday's vote, the Taliban has pursued a bloody campaign in an effort to intimidate a healthy election turnout. On Wednesday, at least six police officers were killed and four others injured as a suicide bomber detonated an explosive device outside the Interior Ministry in Kabul.
Early Friday, longtime AP photographer Anja Niedringhaus, 48, was killed and AP senior correspondent Kathy Gannon, 60, was severely wounded after an Afghan policeman opened fire on the journalists' car as they traveled with election workers through Khost. Niedringhaus is the third journalist to be murdered in Afghanistan in the past month.
On Saturday, a bomb exploded at a polling station in the country's south-eastern province of Logar, southeast of Kabul. Four people were injured in the blast, one of them critically, district governor Abdul Hameed told Reuters.
According to Reuters, over 350,000 Afghan troops are on duty around the country to hold off attacks at polling stations and against voters. Kabul, the nation's capital, has been surrounded by many layers of roadblocks and checkpoints.
Authorities near Bagram Airfield – the largest US base in Afghanistan, located in Parwan Province – say all roads leading from there to Kabul have been blocked and will stay that way until after Saturday's election, according to RT's Kafanov.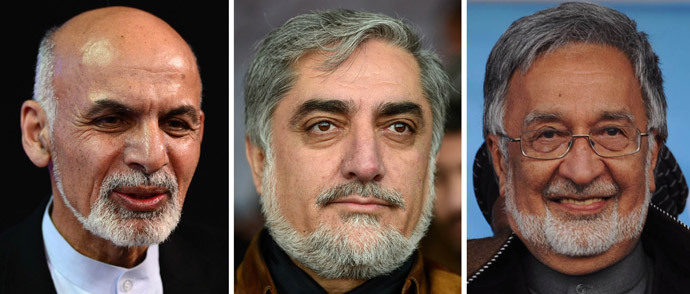 Kandahar, a hotbed of Taliban activity, is under near lockdown before Saturday, Reuters reported, as residents have been advised to stay idle in the meantime.
The popular belief is that, according to AFP, the vote will be considered a success if violence by the likes of the Taliban is limited on Saturday, if voter turnout is more than one-third of registered voters as it was in the violence-wracked 2009 election, and if the result is not marred by allegations of fraud – again, as was the case in 2009, when 20 percent of ballots were deemed fraudulent.
"The whole future of Afghanistan is at stake," Franz-Michael Mellbin, the EU's special representative in Kabul, told Reuters. "It's crucial...the Afghans come out and vote in large numbers and give political legitimacy, and the aftermath of the elections will be crucial because we need a stable government."
#Afghanistan's Interior Ministry says police and NDS officers in Wardak province, arrested for stuffing 5 ballot boxes #AfghanElections

— Lucy Kafanov (@LucyKafanov) April 5, 2014
As for the campaign, despite three main candidates, there is no clear frontrunner. The process of determining a winner could drag on for weeks or even months, especially considering the likelihood of a run-off vote occurring.
Preliminary results are not expected until April 24, partly because of the massive undertaking that comes with transporting ballots across the country's mountainous terrain.
That effort will require around 3,000 donkeys to carry ballot boxes from the nation's most remote areas, Reuters reported.
Many predict that no candidate will win more than 50 percent, meaning a second round of voting on the two top candidates, which would be held May 28. If this becomes the case, vote counting – along with inevitable allegations of fraud – will likely spill into the end of June, when the holy month of Ramadan begins.
"A very chaotic electoral process, it seems, is the one thing that can be confidently predicted," said the Afghan Analysts' Network in a recent assessment, according to AFP.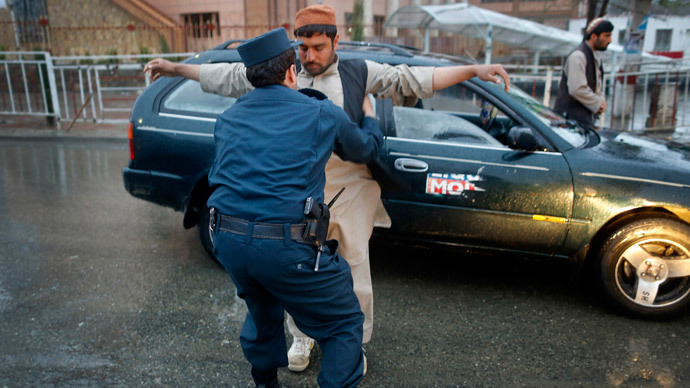 Who are the top candidates?
Former Foreign Minister Abdullah Abdullah finished second in the 2009 election, withdrawing after a run-off with Karzai amid allegations that the president's supporters had rigged the vote.
Before that, he served in Burhanuddin Rabbani's pre-Taliban government. Then, in 2001, he returned to serve as foreign minister in the transitional government before being ousted in 2006.
Abdullah's base of support is in Tajik ethnic areas of the north and northeast. He was born to a Tajik mother. His father a Pashtun.
Former finance minister and noted academic Ashraf Ghani taught at several universities in the US during the Soviet occupation of Afghanistan in the 1980s, according to AFP. He's also worked for the World Bank and served as special adviser to then-United Nations Special Envoy for Afghanistan Lakhdar Brahimi following the fall of the Taliban.
Ghani, a Pashtun, was finance minister in Karzai's transitional government and later became head of the national security transition commission. He has stressed the need for infrastructure projects during his campaign. His base of support is in the south and east.
Zalmay Rassoul, another former foreign minister, is considered Karzai's unofficial favorite in the election. A close Karzai loyalist, his candidacy is seen as "propelled by the palace."
Rassoul was the chief of staff and personal doctor for former King Zahir Shah. In 2002, he was the minister of civil aviation and later a national security adviser to Karzai.
Fluent in many languages, Rassoul is Pashtun, though he has been criticized for his poor grasp of the Pashto language. He is the only top candidate to choose a woman as one of his two running mates.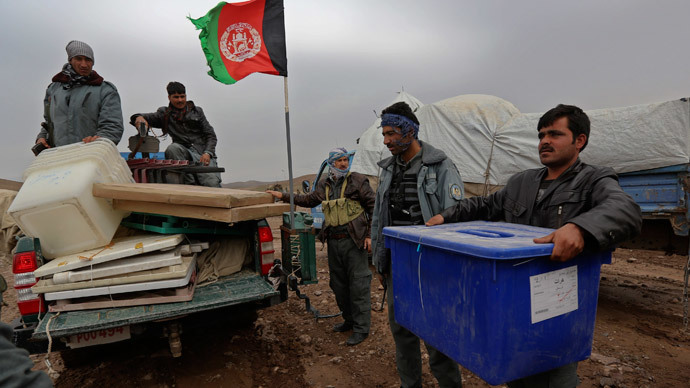 You can share this story on social media: