At least 6 dead as suicide bomber strikes outside Interior Ministry in Kabul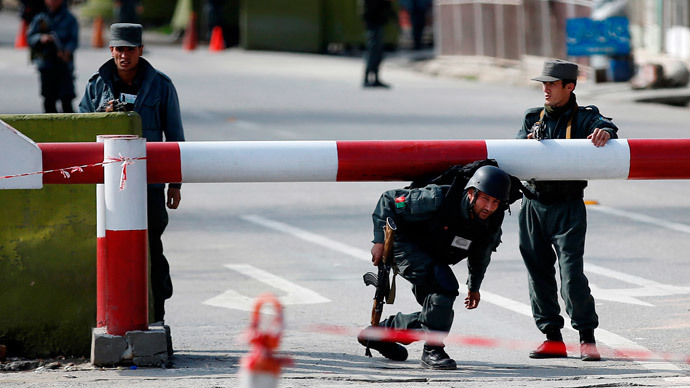 At least six police officers were killed and four others injured as a suicide bomber detonated his explosive device outside the Interior Ministry in the Afghan capital, reports RT's Lucy Kafanov from the scene.
There have been a number of threats of attacks in Afghanistan ahead of this weekend's presidential elections.
Kafanov said the bomber managed to break through a heavily-fortified perimeter, off limits to civilians, before detonating his explosives. Officials said the attacker was dressed in a military uniform.
"It happened outside the main gate... The bomber tried to enter our human resources department," a spokesperson told Reuters. "As soon as the bomber saw some policemen he detonated his explosives. It was impossible for him to enter the facility with the suicide vest."
Again, this is a heavily fortified area that civilians can't access. Even for police there are 3 checkpoints - the third is a bag/body check

— Lucy Kafanov (@LucyKafanov) April 2, 2014
Taliban spokesperson Zabihullah Mujahid said the terrorist group was behind the suicide attack. Just a few hours earlier Mujahid released a statement warning Afghans to stay away from polls this weekend, claiming the Taliban would target them during the elections.
We can confirm a blast at the Interior Ministry. It's within secure perimeter, near information archive building pic.twitter.com/vQxhoj7jHb

— Lucy Kafanov (@LucyKafanov) April 2, 2014
The latest attack is part of a larger effort by the Taliban to disrupt the election process. Earlier in the week gunmen from the terrorist organization shot dead nine people, including a candidate for a seat in a provincial council.

In addition, armed Taliban members attacked the Independent Commission HQ in Kabul on Saturday, engaging in a five-hour gunfight which resulted in the deaths of all four terrorists and one Afghan army general.

The Taliban has slammed this weekend's elections as a western-back sham. The vote will indeed be crucial for Kabul's onward relationship with Washington as the outcome will dictate the US role in Afghanistan's security effort.

Current President Hamid Karzai has refused to sign a security pact that would permit a number of US soldiers to remain in Afghanistan following the scheduled pull out of troops in December. Karzai's refusal to sign the agreement has prompted Washington to threaten to leave no troops behind and abandoning the Afghan security forces to battle to insurgent Taliban alone.

However, the current frontrunner in this weekend's elections, former Foreign Minister Abdullah Abdullah has said he would be willing to sign the pact should he be elected.
You can share this story on social media: