Suicide bombing, gunfight as Taliban attack foreign guest house in Kabul
Afghan security forces have recaptured a guest house that was bombed and then seized by Taliban insurgents in an upscale residential part of Kabul. At least one Afghan child was killed, but four foreigners in the house were freed alive and well.
"The fight is over. Five attackers are dead," Qadam Shah Shaheem, commander of 111 Military Corps Kabul, told Reuters.
"One detonated his car loaded with explosives, three others detonated explosives attached to their bodies inside the building, and one was shot by security forces. All four foreigners are alive and safe now."
RT's Lucy Kafanov has sent a video report of what was happening at the scene.
"We were actually about 800 meters away filming at a police checkpoint when we heard a loud explosion, a blast, and saw a dark smoke billowing into the air," she said. "We were at the scene shortly thereafter. For several hours we witnessed a gun battle between the Taliban insurgents holed-up inside and Afghan forces that arrived at the scene."
Earlier Hashmat Stanikzai, a spokesman for Kabul's police chief, said that a suicide bomber detonated his car, loaded with explosives, in front of a guest house used by foreign and Afghan citizens, and some insurgents forced their way inside the building.
Military convoys were dispatched to secure the area as a gun battle erupted, following the explosion.
Immediately after the attack, the Taliban issued a statement claiming responsibility for the bombing. It said that the target was a foreign guest house and a church. Taliban spokesman Zaillah Mujahid said the church was used by foreigners for converting Afghans to Christianity.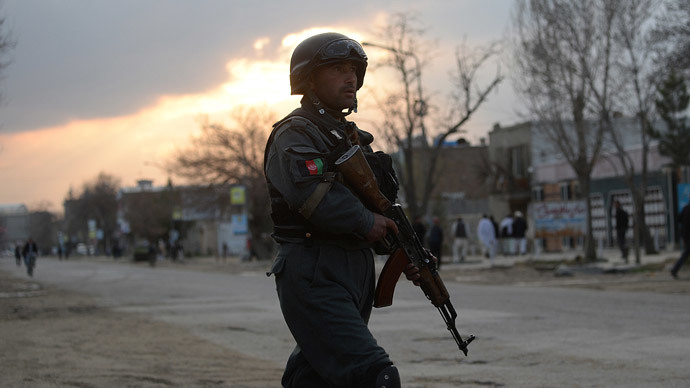 A number of foreigners were escorted from the building by security forces, according to eyewitness accounts.
Police sealed off the area and several ambulance and police were dispatched as a precautionary measure as there were fears that there could be another explosion.
The building was cleared of insurgents a few hours after the bombing.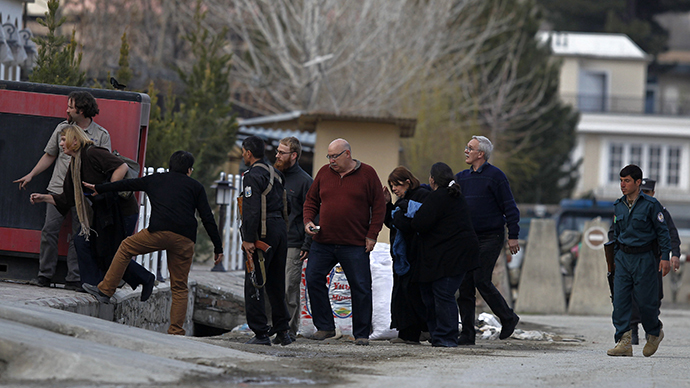 While there have been no casualties among foreigners, one Afghan child was reported to have been killed and a man wounded in the attack.
The bombing and siege comes just a week ahead of the April 5 presidential election. The Taliban have denounced the poll as a Western-backed sham, and have threatened to disrupt voting.
Taliban militants have increased their pressure on the central government in Kabul as the US troop withdrawal draws nearer. All US troops are supposed to be out of the country by the end of 2014.
"In the past couple of weeks if you look not only foreigners have been the target, but the election commission offices in Kabul, civilian casualties were in Faryab [on March, 18 a suicide bomber killed 16 people at a crowded market] in Northern Afghanistan, police station was a target in Jalalabad, in Eastern Afghanistan," investigative journalist Enayat Najafizada told RT. "I think the Taliban is targeting everywhere, where it is easier for them."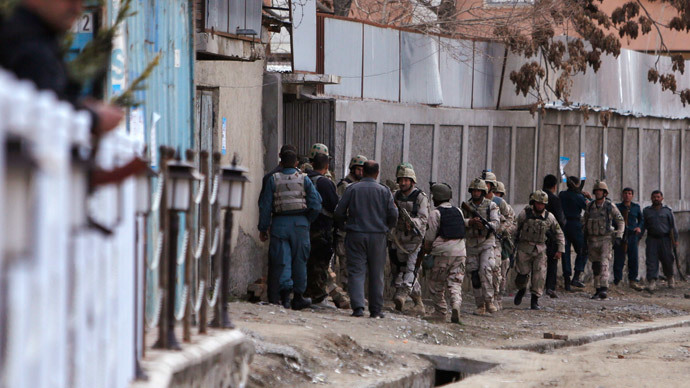 Despite the US saying it is willing to leave behind some 10,000 troops beyond 2014, outgoing Afghan President Hamid Karzai has so far refused to sign a bilateral security agreement that would permit such a move.
The Karzai government has tried to engage in talks with Taliban in recent years, but these efforts have so far brought no tangible results.
You can share this story on social media: