Poland sets up parliamentary group for WWII reparations
The team will deal with compensation from Berlin and assess how much to demand from Moscow, a top official said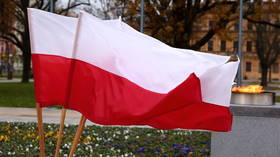 Poland has set up a parliamentary group to work on World War II reparations from Germany and Russia, Deputy Foreign Minister Arkadiusz Mulyarczyk said on Thursday.
The group's members include the leader of the ruling Law and Justice (PiS) party, Jaroslaw Kaczynski.
According to Mulyarczyk, the new commission will be in charge of demanding compensation from Berlin, which last year refused to discuss the subject, and estimating the amount of the compensation to be sought from Moscow.
In a statement on X (formerly Twitter) on Friday, the official said that "the struggle for justice" remains a moral and legal obligation almost 80 years after the end of the war. Mulyarczyk added that the lack of reparations "casts a shadow" not only on interstate relations, but also on the entire post-World War II global legal order.
A report on the losses suffered by Poland as a result of the German invasion and occupation during World War II was presented last autumn. Foreign Minister Zbigniew Rau signed a diplomatic note to the German government, demanding PLN 6.2 trillion (about $1.5 trillion) as compensation for damages.
However, at the beginning of this year, Berlin responded that the issue had been closed and definitively settled under a 1990 treaty on German reunification. Mulyarczyk that answer was "absolutely disrespectful."
Commenting on the subject last September, Polish President Andrzej Duda said Warsaw "should demand reparations from Russia as well," adding that he saw "no reason why we shouldn't pursue it." The Russian stance is likewise uncompromising. Kremlin spokesman Dmitry Peskov quipped that if Moscow were to adopt the same approach as Warsaw, it could look into the Polish invasion of Russia during the Time of Troubles in the late 16th and early 17th centuries as grounds for claims of its own.
Last September, Konrad Wnek, director of the Poland's Institute of War Losses, told Gazeta Polska Codziennie that work on the Russian reparations campaign was ongoing, and that a full report would be ready in two or three years. He noted that "changing the perception of the Soviet Union" as a member of the anti-Hitler coalition and liberator would be difficult, not only for Polish historians but also for the general public.
Poland insists that it was never properly reimbursed for damage suffered at the hands of Nazi Germany and only agreed to waive reparation claims in the 1950s under pressure from Moscow.
It also says Moscow is liable because the Soviet leadership sent troops into Poland shortly after the Nazis did at the start of the war.
Russia argues that the order was given after the Polish government fell, due to the Nazi onslaught, and that the decision helped save lives in eastern Poland. The USSR also invested heavily in rebuilding Poland after the war.
You can share this story on social media: