Germany showing disrespect to Poland over World War II – Warsaw
Berlin was wrong to claim the issue of reparations has been settled, a senior Polish diplomat has said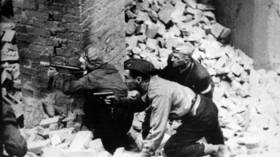 Germany's refusal to pay World War II reparations to Poland is a sign of double standards and disrespect to the Polish people, Arkadiusz Mularczyk, secretary of state at the country's foreign ministry, has said.
Poland is demanding $1.37 trillion from Berlin as compensation for the killings and destruction committed by Adolf Hitler's troops during the Nazi occupation that lasted between 1939 and 1945.
The German Foreign Ministry said on Tuesday that the issue of war damages "remains closed" and Berlin does not intend to renegotiate the matter. Mularczyk blasted Germany's position as "false."
"The case of unsettled compensation for Poland for the effects of WWII remains open, morally, politically and legally," Mularczyk tweeted on Wednesday. "We have an international campaign ahead of us, but I am sure that we will win for both Poland and Poles."
"Poland's losses were unimaginable, and the Germans have received our report on the matter," the diplomat told the Polish Press Agency on Tuesday. "Their answer, summed up in one sentence, shows an absolutely disrespectful attitude towards Poland and the Poles."
Mularczyk accused Berlin of double standards, pointing out that the country agreed last year to pay €1.1 billion ($1.16 billion) to Namibia as compensation for colonial-era atrocities. He said Warsaw would continue to seek compensation "consistently and intensively."
Germany maintains that its WWII-related obligations were comprehensively settled under the 1990 treaty that paved the way for the reunification of the country during the final years of the Cold War. Berlin has also argued that Warsaw waived the right to claim reparations under a 1953 deal with East Germany.
Warsaw, however, insists that Poland, which was ruled by the Communist government at the time, was pressured into signing the 1953 agreement by the Soviet Union.
Poland has made increasing calls for reparations since the conservative Law and Justice (PiS) party returned to power in 2015. The government presented a formal claim to Germany in October and said on Tuesday that it would seek the help of the UN.
You can share this story on social media: