Poland seeks UN help in reparations case against Germany
The global body should intervene as Berlin rejects any dialogue on the issue, a Polish official has claimed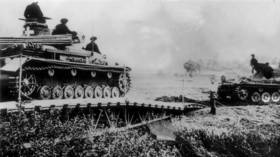 Warsaw will address the UN for assistance in launching dialogue with Germany on World War II reparations, Poland's deputy foreign minister has said.
Arkadiusz Mularczyk told Polskie Radio on Tuesday that the international community is unaware that Berlin failed to pay reparations to Warsaw for the "terrible crimes" committed in Poland between 1939 and 1945.
In order to correct this, the Polish government has launched a large-scale information campaign and reached out to major global organizations, the MP from the ruling Law and Justice party (PiS) said. Warsaw has already sent appeals to EU members, the Council of Europe and NATO, explaining the situation. The diplomat noted that last month, his government also contacted UNESCO over the works of art it claims were looted from Poland by the Germans.
"We are also submitting a request to the UN, asking it to intervene in this issue," Mularczyk said.
The global body must get involved to promote "the creation of a platform for dialogue with Germany, which doesn't want to engage," he explained.
Mularczyk also said that he had requested a meeting with UN Secretary General Antonio Guterres to discuss reparations from Berlin.
Relations between the two EU and NATO members have been strained in recent months, since Poland decided that Germany owes it 6.2 trillion zlotys ($1.36 trillion) for damages suffered during the Nazi occupation.
Warsaw officially addressed Berlin about the reparations in early October. Berlin insists that the matter was resolved when Warsaw waived its right to restitutions in 1953 under a deal with East Germany, and that the issue was definitively settled under a 1990 treaty on German reunification.
While Berlin made one-time payments to victims of forced labor and former inmates of Nazi concentration camps, the issue of reparations is "closed from the perspective of the German government," Germany's Foreign Minister Annalena Baerbock has said.
You can share this story on social media: