Germany 'hiding like cowards' over WWII compensation – Poland
Berlin's reluctance to discuss reparations is creating a "schizophrenic situation," Deputy Foreign Minister Arkadiusz Mularczyk has claimed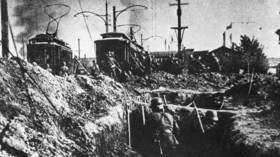 Germany is acting in a "cowardly" way by refusing to discuss reparations for Poland for the damage caused by the Nazi occupation in World War II, Deputy Foreign Minister Arkadiusz Mularczyk has claimed.
"On the one hand, we have the lack of judicial recourse on the part of the [Polish] victims; on the other hand, the lack of willingness by the Germans to begin talks on this matter," Mularczyk said in an interview with PAP news agency on Wednesday.
Berlin is "hiding [in a cowardly way] behind its judicial immunity," he added, saying that "it's a schizophrenic situation on the part of Germany, which considers itself a law-abiding, democratic state that respects human rights."
Mularczyk, who visited Berlin earlier this week, said his trip was "an act of moral pressure on German politicians, who think that the issue [of reparations] has long been settled."
Poland has been demanding that Germany pay up since last autumn, when the country's parliament voted to seek 6.2 trillion zlotys ($1.36 trillion) over the damage suffered during World War II.
However, Berlin insists that the matter was resolved when Warsaw waived its right to restitutions in 1953 under a deal with East Germany, and that the issue was definitively settled under a 1990 treaty on German reunification.
Germany's ambassador to Poland, Thomas Bagger, reiterated Berlin's stance on Wednesday, telling Poland's Radio 24 that "everything has already been said on the issue of reparations."
"This topic is a Pandora's box, and it's better that this box remains untouched," Bagger said.
Last year, Polish President Andrzej Duda suggested that Russia, as a successor state to the USSR, also owes reparations to Warsaw.
The Soviet Army completed the liberation of Poland from the Nazis along with Polish troops in 1945.
Duda's suggestion was condemned by Moscow. Kremlin spokesman Dmitry Peskov called it "unhealthy political extremism" and another sign of Warsaw's "frenzied Russophobia."
Peskov noted that Russia has grievances with Poland dating back to the 16th century, likely referring to the 'Time of Troubles', when Russia was briefly occupied by the Polish-Lithuanian Commonwealth.
You can share this story on social media: