Poland appeals to US in $1.3 trillion row with Germany
Warsaw has turned to Washington for help after Berlin refused to pay Poland's demand for WWII reparations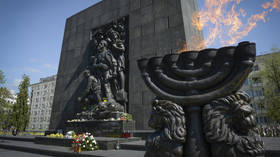 Polish officials have called on Washington to pressure Germany into paying out $1.39 trillion in reparations for war damages sustained during World War II. Speaking at a press conference on Tuesday, Deputy Minister of Foreign Affairs Arkadiusz Mularczyk stated that an appeal to the US Congress was the next step in the "internationalization" of Polish claims for war damages from Berlin.
"We believe that the US is a country that determines the global order today, a key country when it comes to respecting the international order, human rights, the rule of law and international justice," Mularczyk said.

He added that he hopes the US Congressional Committee, as well as several individual senators and congressmen, will assist Warsaw in "the issue of Poland's claiming compensation for the effects of World War II."
"I want to emphasize that to this day Germany has not compensated Poland for war losses. Also, Polish citizens have not received appropriate compensation from the German state," he said, having previously accused Berlin of double standards and disrespect towards the Polish state.
Warsaw officially addressed Berlin about the reparations in early October. Germany refuted the claims, arguing that the issue of war damages had been settled long ago under treaties signed in 1953 and 1990 and that Berlin considers the matter "closed."
Poland, however, has insisted that the question of unsettled compensation remains open "morally, politically and legally" and has launched an extensive international campaign, addressing the issue to major global organizations such as the UN, the Council of Europe, and UNESCO, as well as 50 member states of NATO, the EU and the European Council.
Poland has also hinted at making similar reparation demands from Russia. Officials in Moscow have scoffed at the idea, with Senator Aleksey Pushkov describing Poland's reparation demands as a sign of disunity and imbalance in the Western system now that "all the rules and norms of the post-war world are being called into question."
Kremlin spokesperson Dmitry Peskov has responded to the reparation demands from Germany and Russia by suggesting that Polish politicians seem to have turned to a sort of "political extremism" that is significantly harming their country's prestige.
You can share this story on social media: