Turkish lawyers want ICC to charge Netanyahu with 'genocide'
Among the petitioners is a former MP from President Erdogan's ruling party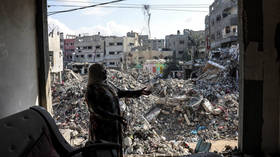 Two Turkish lawyers and a former lawmaker have petitioned the government in Ankara to charge Israel's Prime Minister Benjamin Netanyahu with genocide and war crimes against his country's conduct in Gaza. The request is expected to reach the International Criminal Court, which neither Türkiye nor Israel recognizes.
Metin Kulunk, a former member of parliament from the ruling Justice and Development Party (AKP), teamed up with attorneys Mucahit Birinci and Burak Bekiroglu and sent the 23-page lawsuit to the Istanbul Prosecutor's Office on Tuesday.
"Today, representing the conscience of the citizens of the Republic of Türkiye, we filed a lawsuit at the International Criminal Court in The Hague against the 21st century Hitler, Israeli Prime Minister Netanyahu, who must stand trial for the genocide he committed in the Gaza Strip and all crimes against humanity," Kulunk wrote on X (formerly Twitter), accompanied by the cover page of the lawsuit.
"May God be with our Palestinian brothers and those who defend their just cause to the extent of their strength," Birinci posted on X.
Bekiroglu told TASS that the Istanbul office has already forwarded the case to the Turkish Justice Ministry and will send a hard copy to The Hague, where it should arrive "no later than next week."
The Turkish trio has joined a growing international push to prosecute the Israeli leader over the month-long war on Hamas, which has claimed at least 11,000 Palestinian lives in Gaza, according to the local authorities. Netanyahu vowed to destroy Hamas after the Palestinian militant group attacked nearby Israeli settlements on October 7, killing some 1,200 people and taking over 200 hostages.
Human Rights Watch said on Tuesday that Israeli attacks on hospitals and other healthcare infrastructure in Gaza amount to war crimes and should be investigated by the ICC. Earlier this month, Algeria filed a case against Israel before the ICC, which Colombia joined. Three Palestinian human rights NGOs have done so as well.
Turkish President Recep Tayyip Erdogan accused Israel of war crimes at a political rally last month, but has not followed through on those words.
Türkiye cannot officially file lawsuits before the ICC, as it never ratified the Rome Statute that established the court. According to Turkish media, government bodies and NGOs can "inform the prosecutor's office" of crimes and ask for an investigation, however.
Israel had signed the Rome Statute but withdrew in 2022. The ICC has claimed jurisdiction over Gaza and the West Bank, however, as the UN considers them Palestinian territories under Israeli occupation since 1967.
The Israeli army has denied the allegations of war crimes, insisting that it is taking measures to avoid civilian casualties. It also accused Hamas of using hospitals, schools and other civilian sites as command centers and storing weapons inside them.
You can share this story on social media: