Investigate Israel for 'war crimes' – Human Rights Watch
Deliberate attacks on hospitals and ambulances in Gaza are an atrocity, the group said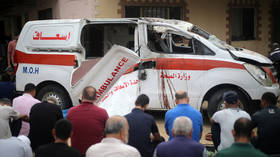 Israel's attacks on hospitals, ambulances and medical personnel in Gaza should be "investigated as war crimes," Human Rights Watch (HRW) said on Tuesday, urging the government in West Jerusalem to end such strikes immediately.
Israel Defense Forces (IDF) attacks are "apparently unlawful" and are "further destroying" the healthcare system in Gaza, according to HRW. Even though Israel accused Hamas of "cynical use of hospitals," earlier this month, "no evidence put forward would justify depriving hospitals and ambulances of their protected status under international humanitarian law," the group added.
"The strikes on hospitals have killed hundreds of people and put many patients at grave risk because they're unable to receive proper medical care," said Dr. A. Kayum Ahmed, HRW's special adviser on the right to health, noting that the Gaza healthcare infrastructure was "already hard hit by an unlawful blockade."
According to the World Health Organization (WHO), at least 521 people – including 16 medical workers – have been killed in 137 "attacks on health care" in Gaza as of November 12. The UN has established that two-thirds of primary care facilities and half of all hospitals in the enclaves were "not functioning" as of November 10, while dealing with "unprecedented numbers of severely injured patients."
The total Palestinian death toll in the enclave has risen to 11,000 since October 7, when Israel declared war on Hamas in the aftermath of the Palestinian group's lethal incursion into nearby Israeli settlements that killed an estimated 1,200 people.
Israel has cut off Gaza's supply of water and electricity. Local hospitals are running out of medicine and basic equipment, with HRW hearing from doctors that they are using vinegar as an antiseptic.
"The Israeli government should immediately end unlawful attacks on hospitals, ambulances, and other civilian objects, as well as its total blockade of the Gaza Strip, which amounts to the war crime of collective punishment," HRW said, while calling on Hamas and other Palestinian armed groups "to take all feasible precautions to protect civilians under their control from the effects of attacks and not use civilians as 'human shields'."
The group urged an investigation into the IDF attacks on Gaza healthcare infrastructure, and the International Criminal Court (ICC) – which has jurisdiction over the occupied Palestinian territories – to get involved as well.
Meanwhile, the US, UK, Canada, Germany and other countries should "suspend military assistance and arms sales" to Israel "as long as its forces continue to commit widespread, serious abuses amounting to war crimes against Palestinian civilians with impunity," the HRW said.
You can share this story on social media: