US wants Israel to clarify Netanyahu's comments – media
Israeli outlets have claimed that Washington is perplexed by the PM's plans for Gaza's post-war future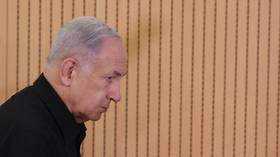 The administration of US President Joe Biden has contacted Israeli officials to demand clarification of Prime Minister Benjamin Netanyahu's claims that Israel will maintain security control of Gaza after the conclusion of its conflict with Hamas, according to Israeli media reports.
The alleged misunderstanding between the allies was initially reported on Sunday by the state-run broadcaster Kan and later confirmed to the Times of Israel by an unnamed US official.
According to the reports, Washington was perplexed by comments Netanyahu made about the post-conflict future of Gaza. During a press conference on Saturday, the prime minister dismissed the possibility of the Palestinian Authority taking control of the enclave after the war, insisting that there "will not be a civil authority there that educates their children to hate Israel, to kill Israelis, or to eliminate Israel" and that it still hasn't condemned Hamas over its attack on the country on October 7 in which 1,400 people were killed.
"There will have to be something else, but in any case our security control. I stand by it and don't intend to give up," he insisted, reiterating the claim he made in an interview with ABC News on Tuesday.
Kan said that US officials wanted their Israeli counterparts to explain to them what exactly Netanyahu meant by "security control."
Despite fully backing Israel in its push to eradicate Hamas, the Biden administration has repeatedly advised it against staying in Gaza after the conflict. Earlier this week, US National Security Council spokesman John Kirby said that Biden "still believes that a reoccupation of Gaza by Israeli forces is not good. It's not good for Israel; not good for the Israeli people."
US Secretary of State Antony Blinken suggested on Wednesday that steps to achieve a "sustained peace" between the Israelis and the Palestinians "must include Palestinian-led governance and Gaza unified with the West Bank under the Palestinian Authority."
Palestinian Authority President Mahmoud Abbas has said several times that the PA is ready to assume "full responsibilities" of Gaza after the conflict, but stressed that it should happen "within the framework of a comprehensive political solution," which includes the West Bank, Gaza, and East Jerusalem.
The military solution to the crisis being pursued by Israel "will not bring security and peace to anyone," Abbas insisted on Friday, adding that Palestinians "will not accept the reoccupation of Gaza or the annexation of any parts of it under any pretext."
Follow LIVE UPDATES for more information
You can share this story on social media: