Netanyahu doubles down on Gaza's future
The Israeli prime minister has ruled out the possibility of the Palestinian Authority controlling the territory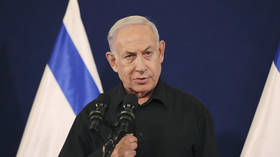 Israel's Prime Minister Benjamin Netanyahu has claimed that Hamas has practically lost control of northern Gaza. He added that once the war ends, his country will maintain "security" oversight to ensure that no new authority educates its children to "hate Israel."
"There is no substitute for victory. We will eliminate Hamas and save our hostages," Netanyahu said in a Saturday night press conference in Tel Aviv. "The IDF has completed the encirclement of Gaza City. They are on the outskirts of Shifa Hospital and have killed a lot of terrorists."
"Hamas has lost control in the north of the Gaza Strip," he claimed. "They have no safe place to hide. Until the last of the terrorists, all of Hamas, are dead."
"We will not stop until the mission is completed," the Israeli leader stated, reassuring the families of the fallen Israeli soldiers that "we are doing everything to be worthy of their sacrifice and heroism."
Netanyahu unveiled his long-term plan for Gaza on Thursday, saying Israel would ensure that the territory no longer poses a threat. "What we have to see is Gaza demilitarized, deradicalized and rebuilt," he said, adding, "We don't seek to conquer Gaza. We don't seek to occupy Gaza. And we don't seek to govern Gaza."
The prime minister explained that no matter who governs Gaza after the war, Israel will need to establish a force that can "enter Gaza and kill the killers" at any time, to "prevent the emergence of another Hamas-like entity." Defense Minister Yoav Gallant also said that Israeli forces will establish a "new security reality" in the area, but stressed that the IDF will not be responsible for "day-to-day life in the Gaza Strip."
On Saturday, Netanyahu dismissed the possibility of the Palestinian Authority taking control of Gaza after the war, insisting that there "will not be a civil authority there that educates their children to hate Israel, to kill Israelis, or to eliminate Israel."
"There cannot be an authority who didn't condemn the massacre. There will have to be something else, but in any case our security control. I stand by it and don't intend to give up," he said.
Israel launched an unprecedented military bombardment of the densely-populated Gaza enclave in retaliation for Hamas' assault on its territory last month. Israeli officials said on Friday that around 1,200 of its citizens – mostly civilians – died in the attack, revising down prior estimates.
Over 11,000 people have died in more than four weeks of artillery and airstrikes in Gaza, Palestinian health officials have said, adding that around 40% of them are children.
Follow LIVE UPDATES for more information
You can share this story on social media: