Israelis wear yellow stars at UN
The move 'dishonors Holocaust victims,' Israel's official remembrance center dedicated to memorializing the genocide has argued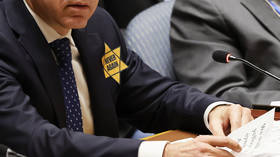 Israel's ambassador to the United Nations (UN), Gilad Erdan, has said that he and his team will wear yellow stars at Security Council sessions until it issues a full condemnation of the "atrocities" Hamas committed on October 7, as he accused the international body of inaction over the attack on the Jewish state.
"Some of you have learned nothing in the past 80 years," Erdan said in an impassioned speech to the council on Monday, while wearing a yellow star bearing the words 'never again.'
"So I will remind you," he continued. "From this day on, each time you look at me you will remember what staying silent in the face of evil means. Just like my grandparents, and the grandparents of millions of Jews, from now on my team and I will wear yellow stars."
Erdan added: "We will wear this star until you wake up and condemn the atrocities of Hamas."
The 15-member council has yet to adopt a single resolution amid the renewed conflict between Israel and the Palestinian militant group.
In several episodes throughout history, Jewish people have been ordered to wear a yellow star or badge to identify them as a religious or ethnic outsider - including by Nazi Germany during World War II, up to and throughout the Holocaust.
"Instead of shouting 'Sieg Heil,' these radical Nazi Islamists scream, 'Death to Israel! Death to America! Death to England!'" Erdan said, adding that Israel was attacked by "Hamas Nazis" on October 7. Israeli officials say that 1,400 people, most of whom were civilians, died in the assault.
Last week, Erdan called for the resignation of UN Secretary-General Antonio Guterres following a statement he made in which he said that the Hamas incursion into Israel "did not happen in a vacuum" and that the retaliation launched by Prime Minister Benjamin Netanyahu's government had included "clear violations of international humanitarian law."
Israel has unleashed an unprecedented bombardment of Gaza in response to the Hamas attack several weeks ago. On Monday, Gaza's health ministry said that the death toll in the besieged coastal enclave has surpassed 8,300.
Erdan's pledge to wear the yellow star at UN sessions was swiftly condemned by Yad Vashem, Israel's official memorial to victims of the Holocaust, whose director Dani Dayan wrote on social media that it "dishonors both the victims of the Holocaust and the State of Israel."
"The yellow patch symbolizes the helplessness of the Jewish people and being at the mercy of others," Dayan wrote on X, formerly Twitter. "Today we have an independent country and a strong army."

You can share this story on social media: