Concerns for Biden's safety in Israel – Politico
Hamas may target the US president, sources told the outlet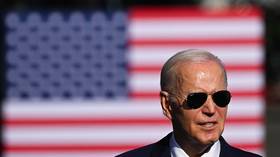 US President Joe Biden wants to accept an invitation from Israeli Prime Minister Benjamin Netanyahu to visit the country in a gesture of support, Politico has reported. However White House officials are concerned for the US president's safety there, two government sources in Washington told the outlet.
The invitation was reportedly extended during a phone call on Saturday. Such a trip – during Israel's armed conflict with Hamas militants – could become one of the highlights of the Biden presidency, similar to his unannounced visit to Kiev in February, the outlet reported on Sunday.
Ahead of the Ukraine trip, the US had "communicated to Russia to not interfere" with Biden's travel plans. And while blaring sirens welcomed the US leader in Kiev, when he met President Vladimir Zelensky, Western reporters were clear that there was no sign of a Russian missile attack at the time.
"Hamas, a group the United States has designated a terrorist organization, would be more likely to take a provocative strike at a traveling president," the newspaper said, citing the opinion of an anonymous US official.
Several US lawmakers who visited Israel last week had to take refuge in a bomb shelter when an air raid siren sounded.
The Biden administration pledged its full support to Israel after Hamas launched a surprise incursion from Gaza earlier this month. The raid resulted in the deaths of over 1,300 Israelis and the capture of dozens of hostages. On Monday, an Israel Defense Forces spokesman said 199 people were identified as being held in Gaza.
The Netanyahu government has declared war on the militant group. The Israeli military announced plans at the weekend for a "significant ground operation" and ordered civilians in Gaza to leave the northern part of the blockaded territory.
Biden has expressed confidence that Israel will do its best to limit civilian deaths while going after Hamas. Washington has reportedly asked Qatar's mediation to secure the release of civilians among the hostages, some of whom have American citizenship.
Russia has condemned violence against civilians by both sides in the conflict, with President Vladimir Putin calling the actions of Hamas barbaric. Moscow has argued that Washington's biased approach to the Middle East peace process and efforts to "monopolize it" resulted in the current escalation, and has urged an earnest negotiation on creating a Palestinian state, after the situation calms down.
You can share this story on social media: