Pakistani party pledges to join Hamas 'on the frontlines'
The country's largest religious political party, Jamiat Ulema-e-Islam, held a massive Palestinian solidarity rally in Peshawar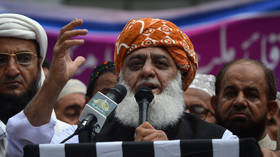 The leader of Pakistan's largest religious political party, Jamiat Ulema-e-Islam (JUIF), pledged its financial support to Hamas and vowed to join the Palestinian militant group "on the frontlines" in the fight against Israel during a massive rally in the city of Peshawar on Saturday, local media reported.
"If the Islamic countries allow us passage, we are ready to join the fight on the frontlines," JUIF head Maulana Fazlur Rehman told the crowd at the Mufti Mahmoud Conference. He revealed that Hamas had requested financial assistance and said he had promised that the party would provide it.
Israel had crossed the limits of oppression with its brutality, Rehman added, calling on the Muslim community to take a strong stand against the occupying power. Since Hamas' attack last Saturday, the Israel Defense Forces have engaged in the worst bombardment of Gaza in its history, leaving nearly 2,000 dead and leveling entire neighborhoods.
While Saturday's event was intended to commemorate JUIF's founder, Mufti Mahmoud, it soon took on the character of a Palestinian solidarity rally due to Rehman's words and the appearance at the conference of Hamas diaspora leader Khaled Meshaal via live video link.
Earlier in the week, Rehman hailed Hamas' attack on Israel as a "historic success," arguing the surprise incursion had "destroyed Israel's defense system and its arrogance." He called for a meeting of the Organization for Islamic Cooperation to affirm leaders' support for the Palestinian cause and condemn Israel's actions.
Meshaal, who founded and led Hamas from 1996 until 2017 before assuming his current role, had previously urged Muslims around the world to take to the streets to demonstrate their support for Hamas and Palestine on Friday. Senior figures within several other parties, including Jamaat-e-Islami and former Prime Minister Imran Khan's Pakistan Tehreek-e-Insaf party, made statements in support of Hamas during their Friday rallies.
Rehman and Meshaal also spoke on Friday about the current situation in Gaza, which the UN has warned is devolving into a humanitarian catastrophe.
Israel on Thursday ordered the evacuation of 1.1 million Palestinians from northern Gaza, forcing the residents of what is already one of the most densely populated areas in the world to further cluster together under continuing airstrikes. The Israeli government has vowed to deprive the blockaded territory of electricity, water, and food until the hostages taken by Hamas last Saturday are returned, an act of collective punishment which human rights experts have warned is an egregious violation of international law.
You can share this story on social media: